This gluten-free lemon chicken is one of my personal favorites. It's a must-try if you love battered chicken with a sweet lemon sauce.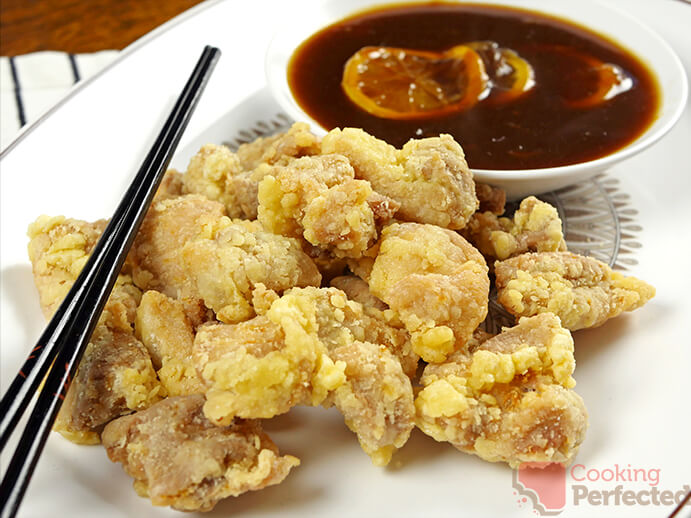 The chicken will cook to be succulent on the inside and have a lovely crunchy batter on the outside. The sauce has strong citrus flavors that compliment the chicken really well.
There are many different versions of lemon chicken. This recipe is based on the Australian Chinese version, which has a light batter and a delicious lemon sauce.
What to Serve with Lemon Chicken
I love having this dish on its own, but you can have it with a huge range of different sides. Below are a few suggestions that you can have with battered lemon chicken.
An example of a great side is some simple steamed rice or even creamy coconut rice. Both of these options can be made either over the stove or in a rice cooker.
Some stir-fried vegetables such as bok choy, sliced bell peppers, sliced green onions, and baby corn will go great with this dish.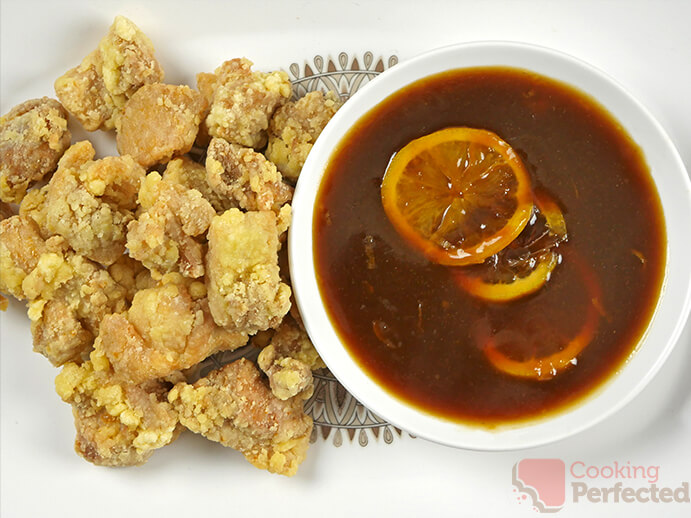 There are plenty more accompaniments that are great alongside the lemon chicken. For example, you could also have some dim sim, prawn crackers, dumplings, steamed greens, and so much more.
Be sure to let us know if you have any suggestions on what to serve with this delicious dish as we will love to hear them.
Leftovers & Dessert
Leftovers of this dish are great the next day for either lunch or dinner. The batter might go a little soggy when you go to heat the dish, especially if you do it in the microwave.
A delicious oven-baked rice pudding is excellent as a dessert after this yummy meal. I highly recommend it as it's super easy to prepare and cook quickly.
You can find the full recipe for this delicious gluten-free lemon chicken right below.
Gluten-Free Lemon Chicken Recipe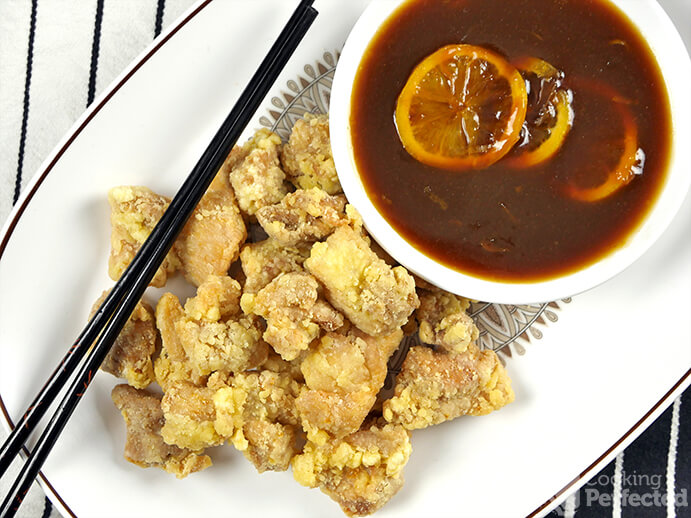 Ingredients
1 kg (2.2 lb) chicken thigh, cut into chunks
Oil for frying
Chicken Marinade
Chicken Coating
Lemon Sauce
Instructions
Chicken Marinade
In a bowl, combine the cornstarch, eggs, Shaoxing wine, salt, and water.
Add the chicken and mix well.
Cover and store in the fridge for roughly one hour.
Lemon Sauce
In a saucepan, add chicken stock, Shaoxing wine, oyster sauce, hoisin sauce, soy sauce, sugar, lemon zest, and lemon juice.
Bring to a light simmer and cook for 10 minutes.
Turn the heat to low or off while you fry the chicken
Coating & Frying
In a bowl, combine the gluten-free plain flour and cornstarch.
Add the chicken and mix well.
In a deep fryer or hot wok, add enough oil to deep fry.
Heat the oil to 200 °C (350 °F).
Deep fry the chicken in two separate batches. It will take roughly 5 minutes for each batch.
Once cooked, put to the side.
Final Steps
Reheat the sauce and add the lemon slices.
Serve & Enjoy.
Recipe Tips
The chicken thigh can be substituted with chicken breast.
You can check the internal temperature of the chicken using a meat thermometer. It will need to be 75°C (165°F) in the center of the thickest part of the chicken.
Shaoxing wine can also be replaced with something like dry sherry instead.
If you're not worried about gluten, then you can easily substitute the gluten-free ingredients with the alternatives.
To avoid ending up with oily batter on the chicken, make sure your oil is at the correct temperature. Also, use some paper towel to remove any excess oil on the chicken once it is cooked.
Nutrition Information
Serving Size: 355g (12.5 oz)
Servings Per Recipe: 6
Calories Per Serving: 410
Amount Per Serving
Saturated Fat: 2.7g
Trans Fat: 0g
Dietary Fiber: 1g
Sugars: 10g
Cholesterol: 191mg
Sodium: 1344mg
Protein: 40g
The information above is an estimate generated by an online nutrition calculator.
More Chicken Recipes
Citrus goes great with chicken, and there are plenty of other dishes that you can do. I highly recommend trying the chicken piccata as it is gluten-free. It's even paleo-friendly.
The orange chicken recipe is very similar to this dish but features strong orange flavors instead of lemon. I highly recommend giving it a go if you love citrus sauces and battered chicken.
If you feel like slow-cooked food, then you should check out the recipe for orange chicken in the slow cooker. It's not battered, but the flavors make up for it.
I absolutely love this battered gluten-free lemon chicken and cook it quite a bit. I hope that you end up sharing the same love for this dish. If you have any feedback, tips, or anything else, then please don't hesitate to leave a comment below.