This easy chicken satay curry is flavor-packed and deliciously creamy.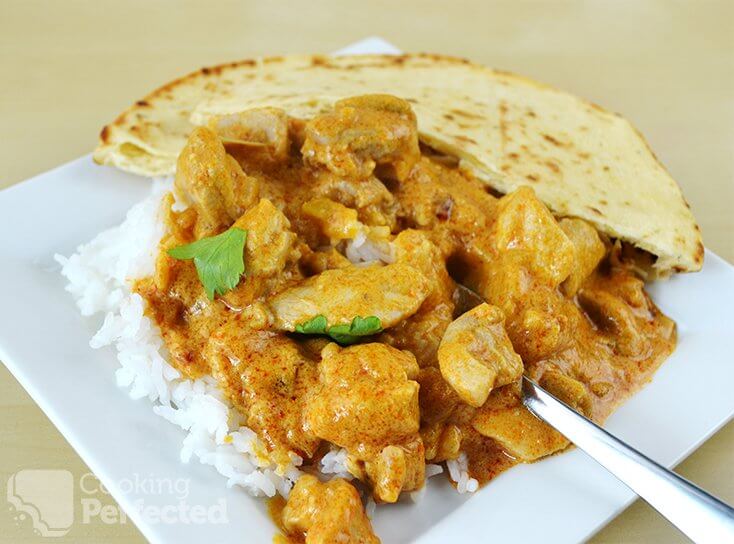 When you take a bite of this curry, you will get some incredible flavors thanks to the red curry paste, peanut butter, mushrooms, and chicken. It is undoubtedly a must-try if you love a good curry.
I reckon you can easily feed a family of four from a single batch of this recipe. However, it heavily depends on whether you are having side dishes and how hungry everyone is.
Curry will reheat well, so if you end up cooking too much, feel free to wrap it and have it for lunch the next day. The leftovers should last for about three days in the refrigerator.
Side Dishes to Serve with this Curry
This delicious curry dish goes perfectly with a wide range of delicious side dishes. Below are a couple of examples of what you can make to go with the curry.
As you would expect, steamed rice works best with this delicious curry. You can cook the rice over the stove or take the easy option and cook it in a rice cooker. Both options result in some lovely cooked rice.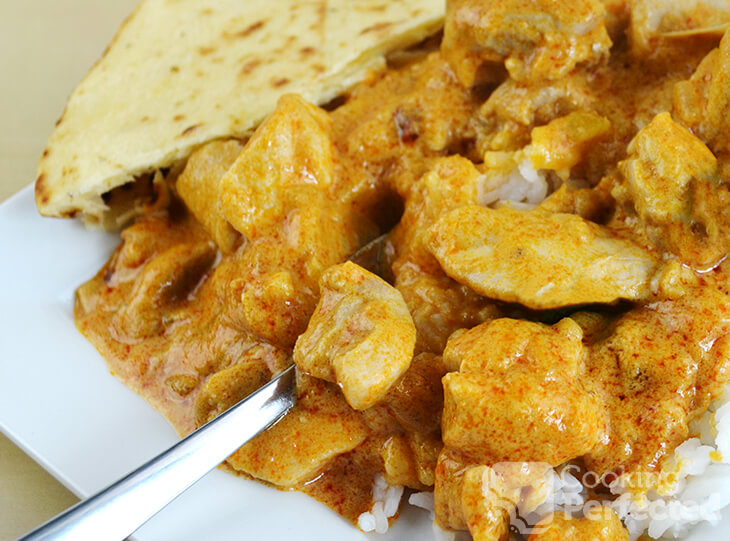 For something a little healthier, I recommend making some cauliflower rice. It is surprisingly easy to make and is perfect if you are trying to stick to a diet. I almost prefer it over regular rice.
I also love to serve this curry with some homemade naan bread. If you do not have the time, you can get some pretty decent naan bread from your local supermarket.
The video below will show you all the steps on how to make a chicken satay curry. Alternatively, you can find the full written recipe right below the video.
Chicken Satay Curry Recipe
Ingredients
1 Tbsp vegetable oil
1 onion, diced
1 tsp garlic, crushed
5 button mushrooms, sliced
500 g (1.1 lb) chicken thigh, roughly cubed
2 Tbsp red curry paste
400 ml (13.5 fl oz) coconut cream
2 Tbsp crunchy peanut butter
Instructions
Heat the oil in a deep frypan over medium heat.
Add the onion, garlic, and mushrooms. Cook until the onion starts to go translucent. Roughly 3 minutes.
Now, add the chicken thigh and cook until browned.
Next, add the curry paste and cook until aromatic. Roughly 2-3 minutes.
Add the coconut cream and peanut butter and mix well.
Let simmer uncovered for about 15 minutes or until the sauce has reduced and thickened.
Serve & Enjoy.
Recipe Tips
You can use different cuts of chicken other than chicken thighs. Depending on your budget, other cuts can be much more affordable such as chicken drumsticks or chicken breast. If you use drumsticks, you may want to cook the curry for longer.
If you need to bulk out this chicken satay curry, then try adding carrot or potato. You will get more serves out of the curry without blowing your budget.
Nutrition Information
Serving Size: 291g (10.3 oz)
Servings Per Recipe: 4
Calories Per Serving: 595
Amount Per Serving
Saturated Fat: 18.5g
Trans Fat: 0g
Total Carbohydrate: 12.2g
Dietary Fiber: 3.5g
Sugars: 5.7g
Cholesterol: 111mg
Sodium: 552mg
Protein: 41.5g
The information above is an estimate generated by an online nutrition calculator.
More Delicious Curries
There are so many different curries that you can make. Below is a couple of recipes that I highly recommend making if you have the time.
The butter chicken curry is an absolute must-try. The recipe makes use of a homemade curry paste, so it involves a little more work than this recipe. However, the results are certainly worth it.
Another curry that I reckon you will love is the creamy chicken korma. Again, it is not as easy as this recipe, but it has some incredibly delicious flavors. I highly recommend giving it a try.
Be sure to let us know your thoughts on this delicious satay chicken curry by leaving a comment below.