If you are sick of eating regular plain ole rice, then you need to try this easy coconut rice. It is slightly creamy and goes perfectly with a good curry and some naan bread.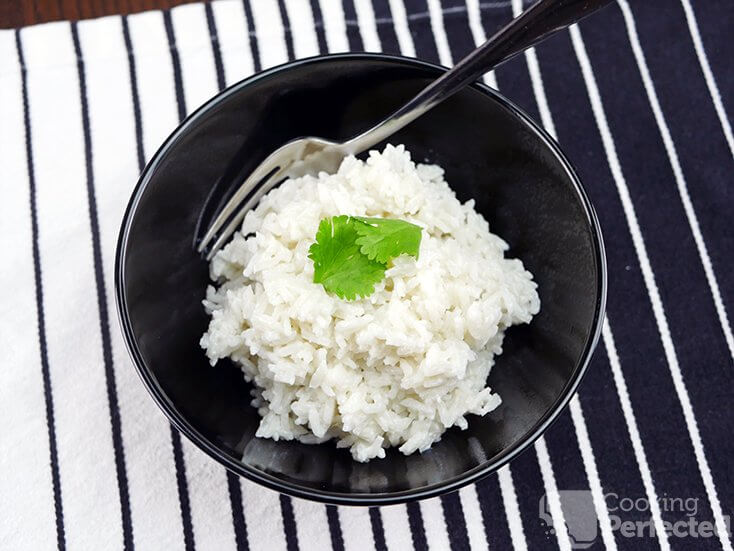 As I mentioned above, this rice cooks to be deliciously creamy and has some lovely coconut flavors. It matches nicely with a huge range of dishes, but I reckon it goes best with a good homemade curry.
We have instructions for doing it over the stove and in a rice cooker. Using a rice cooker is the perfect method if you prefer the easier way of cooking rice.
It is important to remember that different variations of rice usually need different quantities of liquids. Be sure to double-check the rice and adjust the liquid accordingly. Otherwise, you may end up with crunchy undercooked rice.
You should be able to feed four people from a single batch of this rice. You can easily double or triple the recipe if you need to feed more people.
Meals That Go Great with Coconut Rice
This rice is best to enjoy with some curry or Asian styled dishes. Personally, I tend to swap between regular rice and coconut rice, so I never really get bored of eating rice-based meals.
The peanut chicken curry is certainly worth trying out if you want a curry that will match up with this creamy rice. Alternatively, the chicken korma curry matches pretty nicely with this rice as well.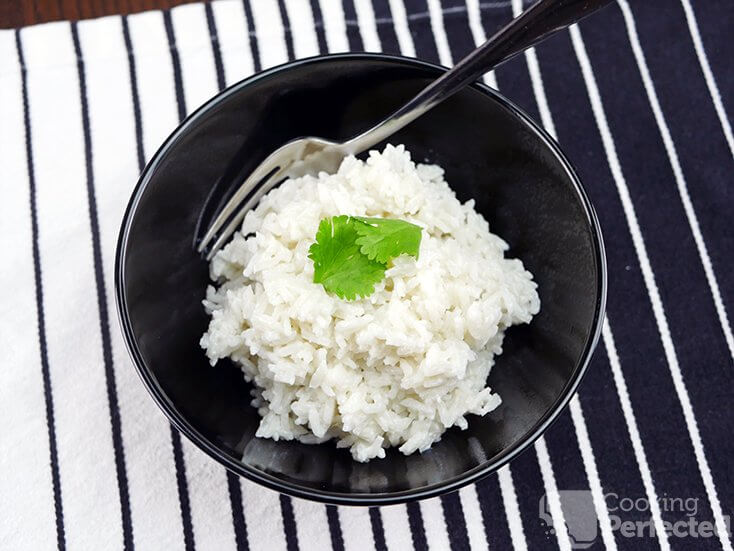 If you have never tried it, then the orange chicken is a dish that will work nicely with the coconut rice. The orange chicken is super simple to make and features some lovely citrus flavors that I reckon you will love.
There is a ton of slow cooker meals that will go nicely alongside this delicious rice. If I were to pick one recipe to recommend, it would be the slow-cooked beef and broccoli. It is so good.
If you would like to see how to make this easy coconut rice, then be sure to check out the video I have prepared below. It is short, snappy, and will show you all the basics of making this rice.
Easy Coconut Rice Recipe
Ingredients
1 cup long-grain rice
1 & 1/4 cups water
1 cup coconut cream
1/4 tsp salt
Instructions
Over the Stove
Place the rice, water, coconut cream, and salt into a saucepan and bring to the boil.
Once at the boil, reduce to a simmer.
Cover and cook for 15 minutes or until the liquid is absorbed.
Allow to stand covered for 10 minutes.
Use a fork or spoon to fluff the rice up.
Serve & Enjoy.
Rice Cooker
Place the rice, water, coconut cream, and salt into a rice cooker and place the lid on.
Switch to cook and wait until it switches to "keep warm" or off.
Allow to sit for 5-10 minutes.
Use a spoon or fork to fluff the rice up.
Serve & Enjoy.
Recipe Tips
Some varieties of rice may need more liquid to cook correctly. Be sure to check the packet for a ratio of how much liquid to rice there should be and adjust accordingly.
If you do not need the rice straight away, then leave the lid on as it will keep warm for about an hour.
You can add extra flavorings such as grated ginger, nutmeg, or even cinnamon. These additions are great for a slightly different tasting coconut rice.
If you absolutely love the taste of coconut, then be sure to add two to three tablespoons of shredded coconut for the ultimate coconut flavor.
You can use coconut milk instead of coconut cream. This swap will result in a less creamy rice.
Nutrition Information
Serving Size: 176g (6.2 oz)
Servings Per Recipe: 4
Calories Per Serving: 307
Amount Per Serving
Saturated Fat: 12.8g
Trans Fat: 0g
Total Carbohydrate: 40.3g
Dietary Fiber: 1.9g
Sugars: 2.1g
Cholesterol: 0mg
Sodium: 160mg
Protein: 4.7g
The information above is an estimate generated by an online nutrition calculator.
More Rice Recipes
Coconut rice is not the only flavored rice you can do. If you are looking for something else that is a bit on the sweet side, then the creamy rice pudding is a recipe that you need to check out. It is excellent as a dessert, and goes great with a bit of ground cinnamon sprinkled over the top.
For something a little healthier, you can try making some cauliflower rice instead. It is super light and perfect if you find yourself getting bloated after eating regular rice. I highly recommend giving it a try.
Cooking regular rice over the stove is incredibly handy and can be quickly perfected using a few tips. It is the perfect method if you do not own a rice cooker.
I hope you enjoyed this simple coconut rice and that you did not run into any issues. If you have some feedback, variations, or something else that you would like to say, then please do not hesitate to leave a comment below.