Back to Recipe
Print Recipe
Gluten-Free Lemon Chicken Recipe
---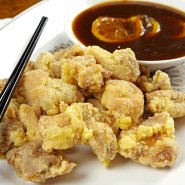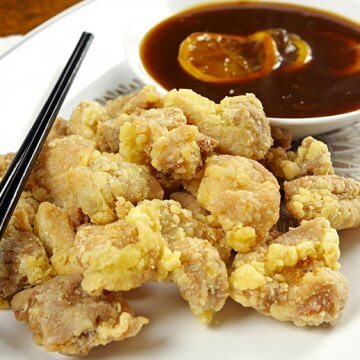 Prep time: 1 Hour & 30 Minutes
Cook time: 20 Minutes
Total time: 1 Hour & 50 Minutes
Serves: 4-6
Ingredients
1 kg (2.2 lb) chicken thigh, cut into chunks
Oil for frying
Chicken Marinade
Chicken Coating
Lemon Sauce
---
Instructions
Chicken Marinade
In a bowl, combine the cornstarch, eggs, Shaoxing wine, salt, and water.
Add the chicken and mix well.
Cover and store in the fridge for roughly one hour.
Lemon Sauce
In a saucepan, add chicken stock, Shaoxing wine, oyster sauce, hoisin sauce, soy sauce, sugar, lemon zest, and lemon juice.
Bring to a light simmer and cook for 10 minutes.
Turn the heat to low or off while you fry the chicken
Coating & Frying
In a bowl, combine the gluten-free plain flour and cornstarch.
Add the chicken and mix well.
In a deep fryer or hot wok, add enough oil to deep fry.
Heat the oil to 200 °C (350 °F).
Deep fry the chicken in two separate batches. It will take roughly 5 minutes for each batch.
Once cooked, put to the side.
Final Steps
Reheat the sauce and add the lemon slices.
Serve & Enjoy.
---
Recipe Tips
The chicken thigh can be substituted with chicken breast.
You can check the internal temperature of the chicken using a meat thermometer. It will need to be 75°C (165°F) in the center of the thickest part of the chicken.
Shaoxing wine can also be replaced with something like dry sherry instead.
If you're not worried about gluten, then you can easily substitute the gluten-free ingredients with the alternatives.
To avoid ending up with oily batter on the chicken, make sure your oil is at the correct temperature. Also, use some paper towel to remove any excess oil on the chicken once it is cooked.
Did you make this recipe?
We want to see! Tag
@cookingperfected
on Instagram or use the hashtag
#cookingperfected
so we can find you!
---