The air fryer works perfectly for cooking some delicious baked potatoes. They are super easy to get perfect.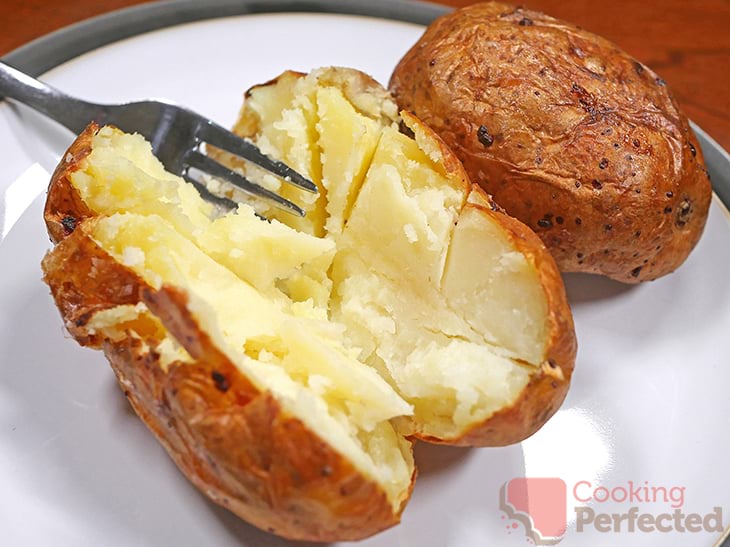 These baked potatoes cook until the skin is deliciously crispy and the potato is loaded with flavor. The inside of the potato will be soft and fluffy. It is a delicious combination and always goes down a treat.
Baked potatoes are also called jacket potatoes in the United Kingdom. Both names refer to a potato that has been baked with the skin left on it.
Usually, I find a single potato is enough to feed one person, but it greatly depends on the size of the potato. I recommend using large potatoes; otherwise, you may need to adjust the number of potatoes you use and the time they need to be in the air fryer.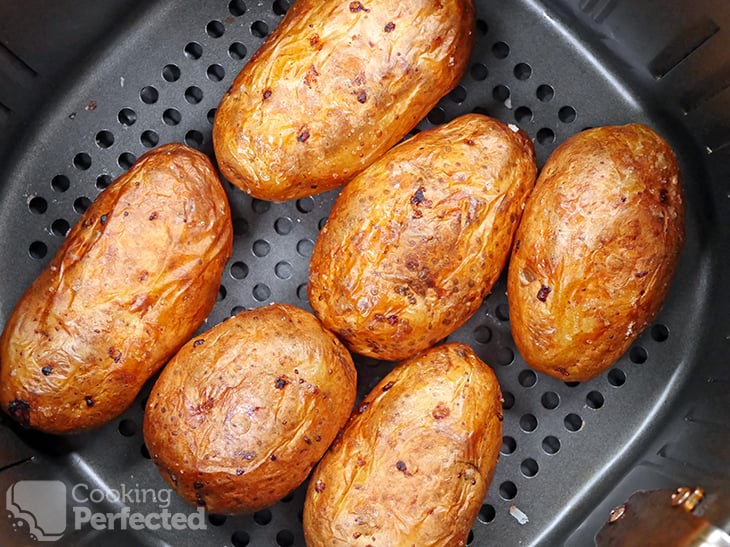 If you somehow have some leftover potatoes, they keep perfectly in the fridge for a few days or can be frozen for a couple of months. I love to cut baked potatoes into cubes and use them in a delicious curry or casserole.
A slow cooker can be used to cook some baked potatoes. Using the slow cooker is perfect if you rather get your potatoes cooking early in the day. I highly recommend giving it a try.
Serving Ideas for Baked Potatoes
These air fryer baked potatoes are even more delicious served with a touch of melted butter and a sprinkle of fresh herbs. Most herbs will work fine, but something like rosemary or thyme will work best. Pick whatever you like the most.
You can easily turn baked potatoes into loaded potatoes. Once the potatoes are ready, simply cut open and add your favorite combination of ingredients. Personally, I love a mixture of crispy bacon, mozzarella, and some chives. I recommend cooking for a further five minutes so that the cheese melts.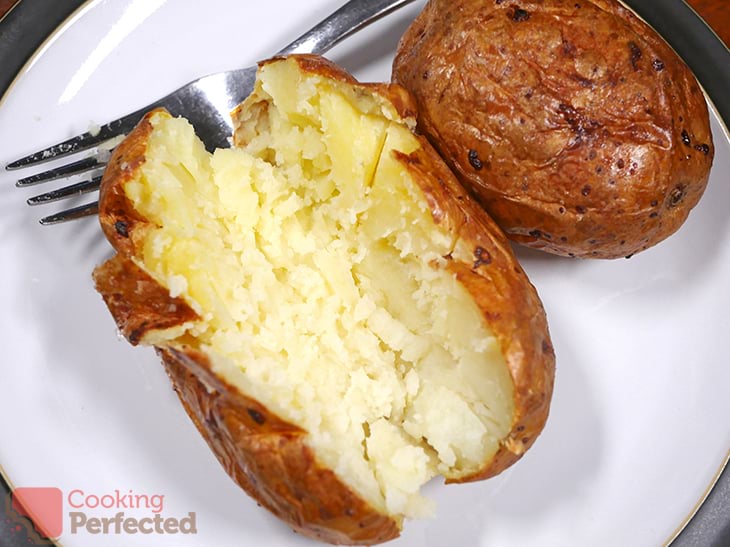 Baked potatoes go great with all the delicious ingredients that make up a full breakfast. I can easily go air-fried bacon, baked beans, mushrooms, chipolatas, baked potatoes, and some guacamole, if I am super hungry. I highly recommend giving it a try.
Casseroles, roasts, and other hearty meals will match nicely with these potatoes. For example, our honey mustard chicken goes great with a few baked potatoes and a refreshing salad on the side. It is a great way to easily feed a crowd.
The recipe below will take you through the few easy steps to cooking these baked potatoes perfectly in the air fryer. If you have any thoughts, please do not hesitate to leave a comment.
Air Fryer Baked Potatoes Recipe
Ingredients
4 large potatoes, washed
1 Tbsp oil
1/2 tsp salt
Instructions
Preheat the air fryer to 180°C (350°F). It will take roughly five minutes to heat up.
Using a skewer or fork, prick the potatoes all over.
Rub the potatoes with oil and salt.
Place the potatoes into the preheated air fryer and cook for 1 hour.
Use a skewer to check if the potatoes are ready. The skewer should pierce easily into the potato.
Serve & Enjoy.
Recipe Tips
You can add herbs in with the potatoes for a bit of extra flavor. Something like rosemary or thyme will work perfectly.
Rubbing the potatoes with some garlic and onion powder is an excellent way of adding flavor.
The cooking oil is not essential, but it helps get the potato crisp. You can use a different oil or fat. For example, bacon fat or duck fat will work great.
It is essential that you do not peel the potatoes. Instead, wash the potatoes, so they do not have any dirt left on them.
Nutrition Information
Serving Size: 373g (13.2 oz)
Servings Per Recipe: 4
Calories Per Serving: 315
Amount Per Serving
Saturated Fat: 0.4g
Trans Fat: 0g
Dietary Fiber: 8g
Sugars: 3g
Cholesterol: 0mg
Sodium: 313mg
Protein: 7g
The information above is an estimate generated by an online nutrition calculator.
More Air Fryer Recipes
There are loads more potato-based recipes that you can cook in the air fryer. Below are just a few of my favorite recipes that I love to make.
Our air-fried sweet potato fries are an absolute must-try. We make them entirely from scratch and cook them without many extra ingredients. As a result, they are super easy to prepare and will easily please anyone who loves sweet potatoes.
The air fryer is very good at cooking some frozen Tater Tots quickly. Tater Tots go great with a huge variety of meals and even work great in casseroles. I highly recommend giving them a try. You might know them as potato gems.
These air-fried baked potatoes were absolutely delicious for me, and I hope they are for you too. If you have some feedback that you want to share, please leave us a comment below.