Back to Recipe
Print Recipe
Easy Trifle Recipe
---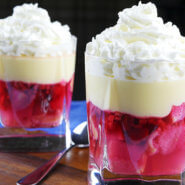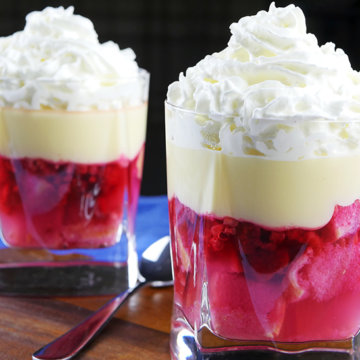 Prep time: 6 Hours & 15 Minutes
Cook time: 10 Minutes
Total time: 6 Hours & 25 Minutes
Serves: 8
Ingredients
Cake and Fruit Mixture
12 sponge fingers, cut into 2cm (1 inch) squares
250 g (8.8 oz) raspberries
Jelly (Jello) Mixture
85 g (3 oz) packet fruit-flavored jelly
250 ml (8.5 fl oz) boiling water
250 ml (8.5 fl oz) cold water
Custard
2 Tbsp custard powder
1 Tbsp sugar
250 ml (8.5 fl oz) milk
Cream
125 ml (4.2 fl oz) whipped cream
---
Instructions
Layer the sponge and fruit in a large bowl or trifle dish.
Dissolve the jelly crystals in the boiling water. Once the crystals are dissolved, mix in the cold water. Pour the jelly mix over the sponge and fruit.
Place in the fridge and allow to set. Roughly six to twelve hours.
In a deep saucepan, mix the custard powder and sugar with 2 Tbsp of milk.
Turn on the stove to medium and slowly mix in the rest of the milk.
Keep heating until the milk reaches a boil, reduce to a simmer, and cook for 2-3 minutes. Allow to cool. The custard should be nice and thick.
Pour the custard over the top of the set jelly and allow it to cool completely.
Top with whipped cream.
Serve & Enjoy.
---
Recipe Tips
Using a premade custard will help speed things up, but it can be very hit and miss. It is often best made fresh. Custard powder is also much cheaper as you can make quite a few batches from one box.
Slivered almonds go amazing on top of this dessert. They also add a bit of crunch.
The fruit is optional and can be left out, but it does add lots of flavor to the dish.
You can use either fresh or frozen fruit in this recipe. I recommend fresh if you can get it at a reasonable price. Otherwise, frozen fruit will work perfectly.
Did you make this recipe?
We want to see! Tag
@cookingperfected
on Instagram or use the hashtag
#cookingperfected
so we can find you!
---