Back to Recipe
Print Recipe
Easy Chicken A la King Recipe
---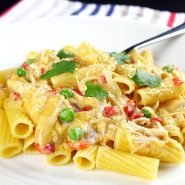 Prep time: 10 Minutes
Cook time: 15 Minutes
Total time: 25 Minutes
Serves: 6
Ingredients
3 Tbsp unsalted butter
3 Tbsp cornstarch
1 onion, diced
5 button mushrooms, sliced
1 red bell pepper, diced
1/2 cup frozen peas
2 cups cooked chicken, shredded
2 cups chicken broth
½ cup cream
---
Instructions
First, shred the cooked chicken and place to the side.
In a frying pan, over medium heat, add the butter.
Once melted, add the onions, bell pepper, mushrooms, and cook until the onion is translucent.
Now add the cornstarch and cook for 2-3 minutes.
Add the chicken broth and stir until combined.
Finally, add the peas, leftover chicken, and cook for 5 minutes.
Finish by mixing in the cream and season with salt & pepper.
Serve & Enjoy.
---
Recipe Tips
To ensure that this recipe is gluten-free, simply make sure you use gluten-free cornstarch.
You can use either fresh or canned mushrooms. Your choice will likely depend on what you prefer and how much prep time you have. Personally, I prefer fresh since the texture and flavor tend to be a lot better. Adding fresh mushrooms shouldn't add any more time to preparing this delicious chicken a la king.
A little bit of sherry will help add even more flavor to this wonderful dish. Just add a splash before you add the cornstarch.
You can use plain flour in place of the cornstarch. However, you may notice the sauce won't thicken up as nicely, so it might be worth adding one tablespoon more if you're using plain flour.
If the result is looking a bit too thick, then simply add some more cream until you get the consistency you want. Try not to add too much too fast, otherwise, it might go too runny.
You can dice some chicken breasts or thigh if you don't have any leftover pre-cooked chicken to shred. Alternatively, buy a pre-cooked rotisserie chicken from a nearby deli.
Did you make this recipe?
We want to see! Tag
@cookingperfected
on Instagram or use the hashtag
#cookingperfected
so we can find you!
---