Back to Recipe
Print Recipe
Air Fryer Tater Tots Recipe
---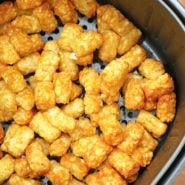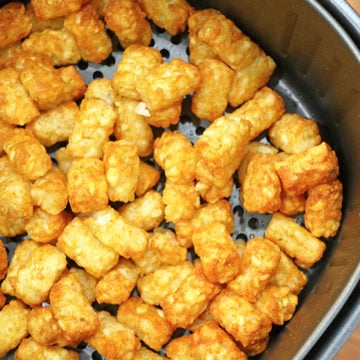 Prep time: 5 Minutes
Cook time: 20 Minutes
Total time: 25 Minutes
Serves: 6
Ingredients
1 tsp oil
1 kg (2.2 lb) Tater tots
---
Instructions
Preheat the air fryer to 200°C (350°F). It will take roughly five minutes.
Place the Tater tots into the air fryer and lightly spray with oil.
Cook for roughly 20 minutes or until the Tater tots are golden brown.
Shake the air fryer basket every 5 minutes to ensure the Tater tots cook evenly. You may need to use a fork to help separate stuck Tater tots.
Season with salt.
Serve & Enjoy.
---
Recipe Tips
If your air fryer is smaller than 4.7L (5 qt), I recommend halving the amount of Tater tots you cook at once.
Tater tots are also known as potato gems, potato pom-poms, potato royals, or potato croquettes.
The time it takes to cook the Tater tots in your air fryer may vary slightly. You may need to plus or minus five minutes from the cooking time.
Having a good amount of spare room in the air fryer is ideal for getting the perfect Tater tots. I recommend only filling the air fryer to a maximum of one-third for the best result.
The oil is optional, but it does help ensure the Tater tots will be crispy.
Preheating the air fryer will help guarantee the best results.
Did you make this recipe?
We want to see! Tag
@cookingperfected
on Instagram or use the hashtag
#cookingperfected
so we can find you!
---