This easy Mars bar slice recipe is so incredibly moreish you will find it hard to stop eating. It is a great recipe to get your kids to help you with the preparation as it's incredibly easy to make.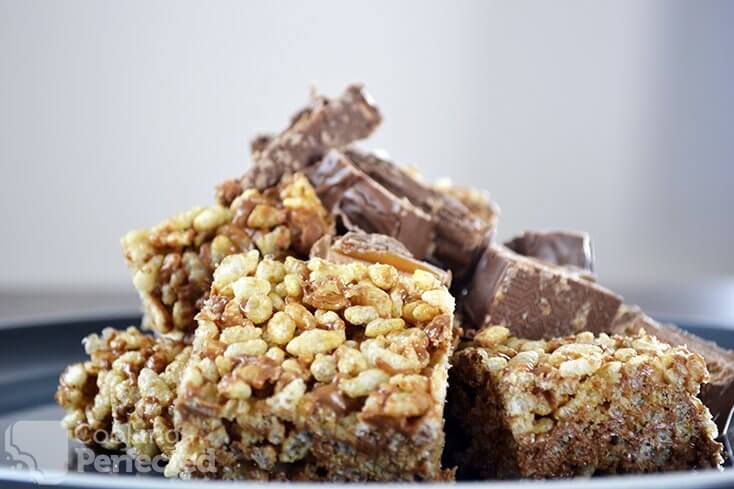 You will find this slice to be sweet, crunchy, and full of that Mars bar flavor we all know and love. The slice never lasts longer than a day when left in our fridge.
This slice is great for a kids lunch box or just for those times when you want something to snack on throughout the day. It also makes for excellent platter food at a kid's party.
Tweaking the Recipe
This particular Mars bar slice doesn't have a chocolate layer on top, as most recipes do. This missing layer is mainly due to the amount of extra effort and time it takes to do this. If you would like to go that extra step, then be sure to check out the cooking tips below.
To add even more chocolate to this slice, you can mix in some chocolate chips. Personally, I would use milk chocolate, but you can experiment by using white chocolate instead.
For more flavor, you can try adding some chopped nuts into the slice mixture. Something like chopped walnuts, macadamias, or even hazelnuts will work quite nicely. Try not to add too much as it might affect the slice's ability to stay together.
What to Serve with Mars Bar Slice
As I mentioned above, this slice is the perfect platter food for a party. Plenty of other slices go great with this, such as chocolate brownies, or zesty lemon bars. There are so many different foods that you can make.
I love to enjoy this slice with a hot drink such as chai, coffee, or a cinnamon latte. If I am craving even more chocolate, then delicious hot chocolate is also the perfect drink.
The video below takes you through how to get this super easy mars bar slice done. If you do like the video and would like to stay up to date, then please make sure you subscribe.
Mars Bar Slice Recipe
Ingredients
3 Mars Bars
3-4 cups rice bubbles (Rice Krispies)
25 g (0.9 oz) unsalted butter
Instructions
In a microwavable bowl, add the mars bars and the butter.
Place in the microwave and heat for about 2-3 minutes or until melted.
Add the rice bubbles to the bowl and mix.
In a slice pan, add the rice bubble mixture. Use the back of the spoon to smooth the mixture out.
Place in the fridge to cool for an hour.
Cut into slices.
Serve & Enjoy.
Recipe Tips
The minimum cooling time is one hour. If you can leave it for longer, then I highly recommend you do.
If you don't mind spending a bit more time on this recipe, you can melt 250g (9 oz) milk chocolate with a tablespoon of vegetable oil in a double boiler. Once melted, pour the chocolate mixture over the top of the slice, so you get a lovely chocolate topping. Allow to cool for about an hour or two in the fridge.
An alternative to using a microwave is to melt the butter and Mars bars in a bowl over a saucepan of simmering water. It is important not to let the bowl touch the water. This process will take a bit longer and make more washing up, but you will get the same result.
Nutrition Information
Serving Size: 18g (0.6 oz)
Servings Per Recipe: 16
Calories Per Serving: 77
Amount Per Serving
Saturated Fat: 1.2g
Trans Fat: 0g
Dietary Fiber: 0g
Sugars: 9g
Cholesterol: 3mg
Sodium: 58mg
Protein: 1g
The information above is an estimate generated by an online nutrition calculator.
More Delicious Chocolate Recipes
If you're looking for some other chocolate recipes that taste amazing, then be sure to check out our brownie in a mug recipe. The delicious mug brownie is super easy to whip up quickly and can be done entirely in a microwave.
If you're feeling really peckish, then be sure to check out the deep-fried mars bar recipe. The recipe is a simple battered fried mars bar that tastes absolutely amazing. It is a must-try if you're a fan of these yummy chocolate bars.
Another great chocolate recipe is the self-saucing chocolate pudding. This yummy pudding produces its own sauce and goes fantastic with some ice cream.
If you have your own improvements, variations, or would like to leave feedback for this easy Mars Bar slice recipe, then please leave us a comment below.