The air fryer is great for cooking lamb shanks until they are beautifully tender and loaded with flavor.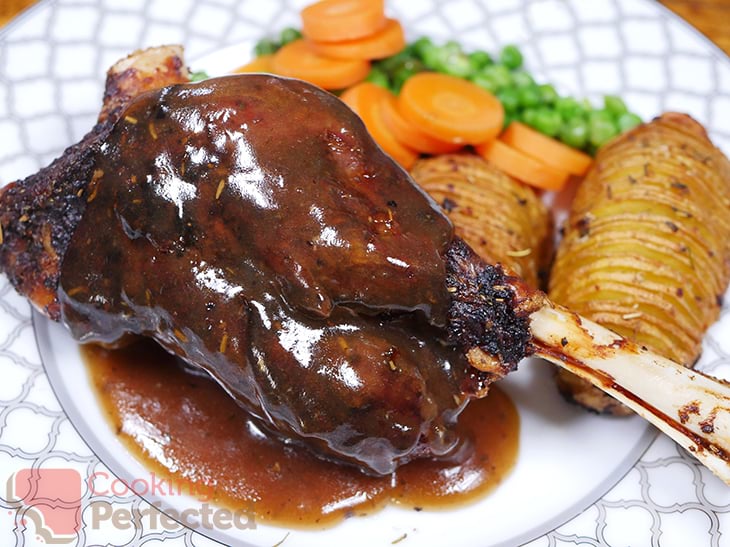 The lamb shanks infuse with the flavor of the seasoning and cook to be deliciously tender. They are delicious on their own, but I recommend making some side dishes to go with them. Personally, I love to eat them with some mashed potato and gravy.
You should get roughly four serves without making any changes to this recipe. However, it can vary quite heavily depending on the size of your lamb shanks and whether you are feeding big eaters or not.
You can also cook lamb shanks in the Instant Pot. Cooking in the Instant pot is quite different as we cook the shanks in a delicious tomato sauce. It is an excellent alternative to this recipe.
If you somehow end up with leftovers, then I highly recommend that you keep them. The leftover meat is great on pizzas, pies, sandwiches, pizza scrolls, and so much more. The meat should be fine to keep in the refrigerator for three days or in the freezer for three months.
Lamb Shank Side Dish Ideas
Mashed potatoes are a classic and always work great with lamb shanks. I highly recommend making a gravy to go along with the lamb and potatoes for the best-tasting meal. If you want to be a little healthier, you can try making mashed cauliflower instead.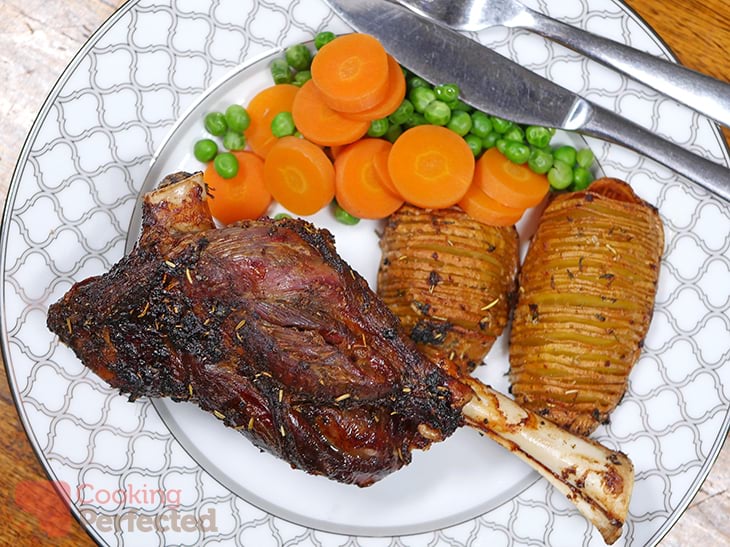 Roast vegetables such as bell peppers, potatoes, carrots, and onion make for a delicious side dish. You can cook these in a traditional oven, or you can cook them in the air fryer. Alternatively, some delicious steak fries or Tater Tots will be great.
If you have spare time in the kitchen, other side dishes such as cauliflower cheese or creamed spinach are excellent choices. They are both unbelievably delicious and super easy to make.
Adjusting the Recipe
For a bit of extra flavor, you can add some wine in with the chicken stock. Either red or white wine will work fine and just comes down to your personal preference.
Feel free to add some extra vegetables into the air fryer with the lamb shanks. For example, potatoes, carrots, onions, bell peppers, or sweet potatoes will cook nicely. Depending on the vegetable, you might need to add it towards the end of cooking.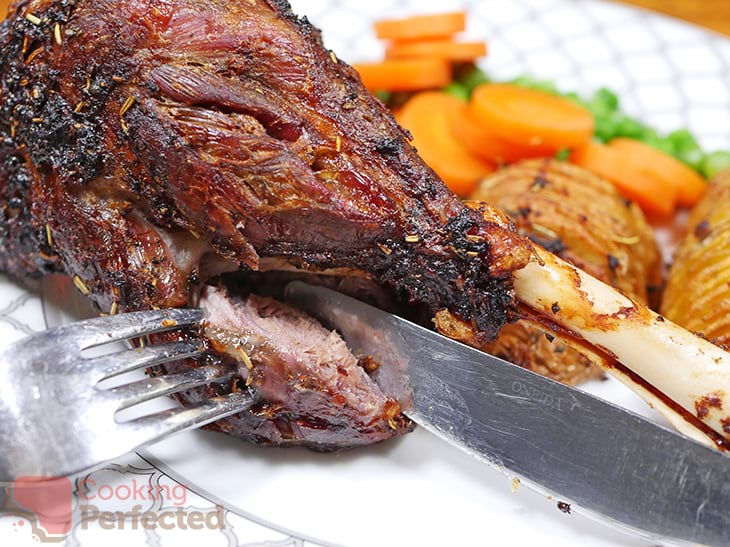 A homemade gravy will go very nicely with these lamb shanks. You can use some of the fluid from the air fryer to make a delicious gravy. Thicken the gravy using a mixture of two tablespoons of cornstarch and three tablespoons of water. Alternatively, you can use a quick gravy mixture such as Gravox.
You can tweak the lamb seasoning to whatever you would like. Other herbs such as mint, coriander, or thyme will work nicely. You can also try adding onion powder, cayenne, mustard powder, paprika, or even cumin. Feel free to get experimental.
The recipe below will take you through all the steps to cooking lamb shanks in the air fryer. If you try our recipe, be sure to leave us feedback at the bottom of this page.
Air Fryer Lamb Shanks Recipe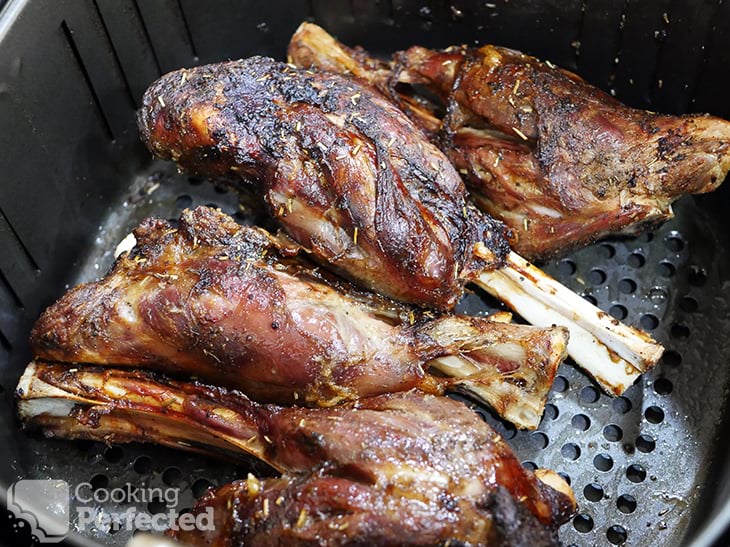 Ingredients
4 lamb shanks
2 tsp olive oil
2 tsp garlic, crushed
2 tsp salt
½ tsp pepper
1 tsp rosemary leaves
2 tsp oregano
250 ml (8.5 fl oz) chicken stock
Instructions
Preheat the air fryer to 200°C (390°F). It will take roughly five minutes to get to the correct temperature.
Rub the lamb shanks in olive oil, garlic, salt, pepper, rosemary, and oregano.
Place into the air fryer and cook for 20 minutes.
Turn the air fryer down to 150°C (300°F) and add the chicken stock. Cook for one hour.
Turn the lamb shanks halfway through cooking.
Serve & Enjoy.
Recipe Tips
Adding more lamb shanks is a great way to feed more people. However, you may need a larger air fryer to be able to fit all the shanks.
Fresh or dried herbs will work fine with this recipe. Personally, I use dried herbs as they are easier to get my hands on. If you use fresh herbs, be sure to double the number of herbs you use.
Add red or white wine to the chicken stock for a bit of extra flavor.
Cooking times may vary depending on the size of your lamb shanks.
The lamb meat should easily come away from the bone. If it doesn't, you may need to extend the cooking time slightly.
Nutrition Information
Serving Size: 246g (8.7 oz)
Servings Per Recipe: 4
Calories Per Serving: 348
Saturated Fat: 3.9g
Trans Fat: 0.2g
Dietary Fiber: 0g
Sugars: 0g
Cholesterol: 148mg
Sodium: 1564mg
Protein: 54g
The information above is an estimate generated by an online nutrition calculator.
More Air Fryer Recipes
Below are a few more delicious recipes that you can try in the air fryer.
The air-fried pork chops are some of the most delicious chops I have ever tried. They are coated in a delicious seasoning blend that will help add flavor and keep the pork tender. I highly recommend giving them a try.
The air fryer is great for cooking some chicken thighs perfectly. Personally, I love to season the thighs with a variety of herbs and spices. The result is some succulent thighs that are loaded with flavor. I do highly recommend giving it a try.
I hope that the air-fried lamb shanks are as delicious as they were for me. If you have some feedback, please do not hesitate to leave a comment below.