This dessert is a yummy paleo custard that is rich in flavor thanks to the vanilla and coconut. It's easy to prepare except for making sure you don't overcook the eggs.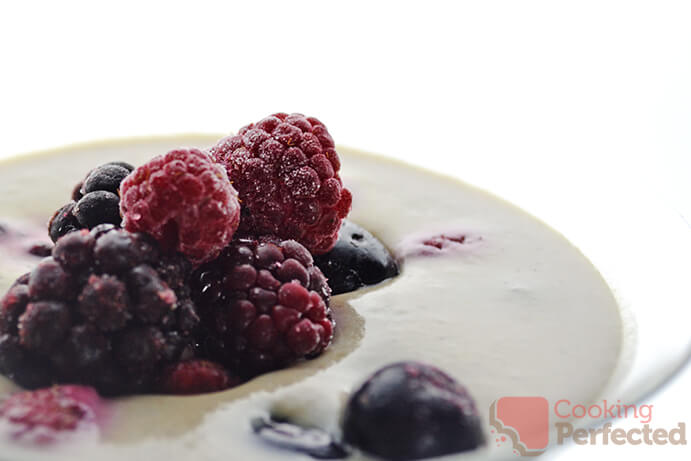 This custard is incredibly creamy and is perfect with some fresh fruit such as raspberries and blueberries. It also is pretty delicious with a whole heap of different desserts.
To make this custard paleo-friendly, I use coconut milk instead of regular milk. One downside to this is that you do end up with a very strong coconut flavor to the custard.
What to have with Custard
You can eat this custard on its own, or you can have it with something else. I typically enjoy having some lovely fresh mixed berries if they are in season. It's also pretty good with most types of fruit, especially bananas.
A crunchy paleo granola goes absolutely fabulous with this, and you can make the granola in advance.
If you're not following the Paleo diet, then there are so many desserts that this goes great as an accompaniment. For example, I love to drizzle custard over a bread pudding that's just come out of the oven. It's so good.
If you have some suggestions on what to have with this custard, then please be sure to let us know by leaving a comment.
Personalize this Paleo Custard
There are lots of different tweaks that you can do this recipe to make it more to your liking.
I haven't tried it, but you could try using almond milk instead of coconut. This change will give you a nutty-flavored custard instead.
To add a bit of sweetness to the custard you can add some honey. I recommend a maximum of a tablespoon as you don't want it to end up too sweet.
You can help stop this custard from splitting by adding a teaspoon of tapioca starch or cornstarch. I recommend beating this into the eggs before adding it to the custard.
There are dozens of more tweaks that you can do to this recipe so if you have one you would like to share, then please don't hesitate to leave a comment.
How Long will Coconut Custard Last?
You will find that this custard will last roughly three to four days when stored in the fridge. Make sure you keep it covered so it won't get contaminated by other food in the refrigerator.
I don't recommend freezing the custard as it's unlikely it will defrost to be very nice. However, I haven't tested this so it might work.
For all the steps on making this delicious paleo coconut custard, be sure to check out the recipe below.
Paleo Custard Recipe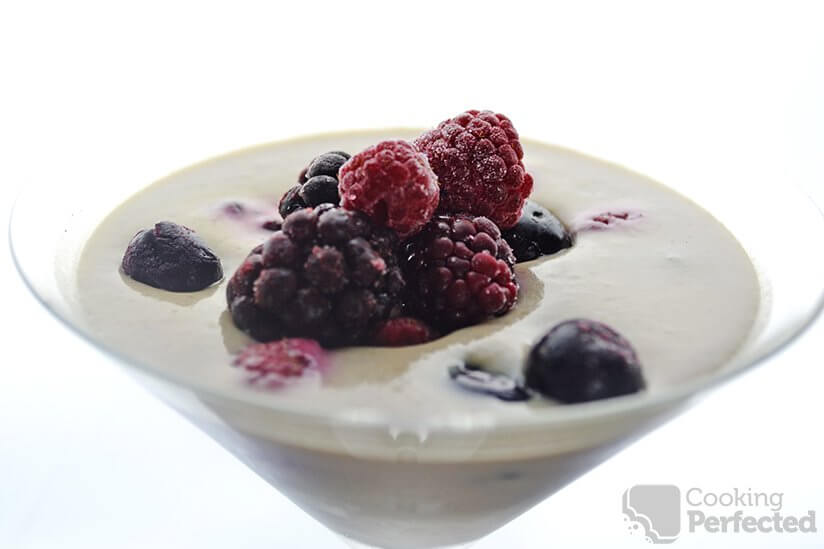 Ingredients
1 cup coconut milk
1 Tbsp coconut oil
2 eggs (At room temperature)
¼ tsp vanilla bean
¼ tsp cinnamon, ground
Mixed berries to serve
Instructions
Pour the coconut milk into a saucepan and bring to a simmer.
Whisk in the eggs, coconut oil, vanilla, cinnamon to the pan and then remove from heat.
Continue to whisk for 4-5 minutes or until slightly thickened.
Place into your serving dishes and refrigerate for at least an hour.
Enjoy!
Recipe Tips
You need to be careful not to overcook the eggs; otherwise, it will go lumpy. The best way to stop it overcooking is to remove it from the heat and let the residual heat cook the custard. If the custard doesn't appear to be thickening, then return to the stove for a few seconds at a time.
Feel free to experiment with the spices a bit. Adding spices such as cardamom, nutmeg, or even turmeric can transform this recipe into something entirely different.
If you like chia, then try adding about 1/3 cup to this paleo custard recipe.
If you're like me, then you probably use vanilla essence all the time. I finally started to use pure vanilla beans after a suggestion by a friend, and I am amazed by the difference. One of the cons to using vanilla beans is the cost. If you're looking for a decently priced vanilla beans, you can find vanilla beans here.
Nutrition Information
Serving Size: 172g (6.1 oz)
Servings Per Recipe: 2
Calories Per Serving: 400
Amount Per Serving
Saturated Fat: 32.6g
Trans Fat: 0g
Dietary Fiber: 2.8g
Sugars: 4.4g
Cholesterol: 164mg
Sodium: 80mg
Protein: 8.3g
The information above is an estimate generated by an online nutrition calculator.
More Delicious Paleo Recipes
There are so many more awesome paleo-friendly recipes that you can easily make. Below is just a couple that will work great with this recipe.
While you can eat this custard by itself, you will actually find that it goes well with many other dishes such as a scrumptious apple crisp.
Another dessert that's worth trying is the paleo-friendly baked apples, and they will match perfectly with this delicious custard.
If you have made this yummy paleo custard and have your own variation that you would love to share, or you have some feedback, then please feel free to leave a comment below.