Back to Recipe
Print Recipe
Paleo Ketchup Recipe
---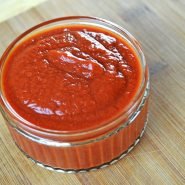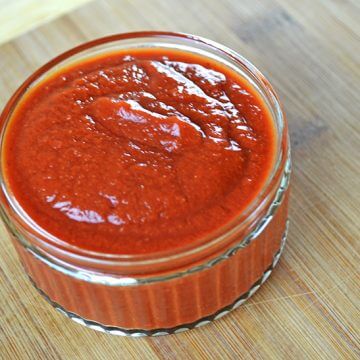 Prep time: 5 Minutes
Cook time: 10 Minutes
Total time: 15 Minutes
Makes: 2 cups
Ingredients
400 g (14.1 oz) tomato paste
1 cup water
2 Tbsp apple cider vinegar
½ tsp garlic powder
½ tsp onion powder
¼ tsp dry mustard powder
¼ tsp ground cloves
¼ tsp cinnamon, ground
---
Instructions
Mix all the ingredients in a saucepan and bring to the boil.
Reduce to a simmer and allow to cook for about 5-10 minutes.
Allow to cool before transferring to a sterile glass container.
Serve & Enjoy.
---
Recipe Tips
If you want a thicker or thinner paleo ketchup, then simply adjust the water. More water would make it thinner, while less would make it thicker.
If you do love a bit of sweetness to your ketchup, then you can try adding some honey. I would start with one tablespoon and keep tasting and adding more until you get it to something that suits your needs. Keep in mind while honey is paleo-friendly, it's important not to go too overboard with it if you're looking to lose weight.
Store any leftover ketchup in the fridge for later use. Make sure the container is sterile, and you don't store it hot. Storing it hot will allow condensation to form and will encourage mold to grow on the food.
Did you make this recipe?
We want to see! Tag
@cookingperfected
on Instagram or use the hashtag
#cookingperfected
so we can find you!
---