Back to Recipe
Print Recipe
Peanut Chicken Curry Recipe
---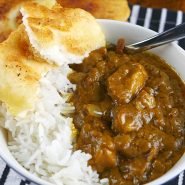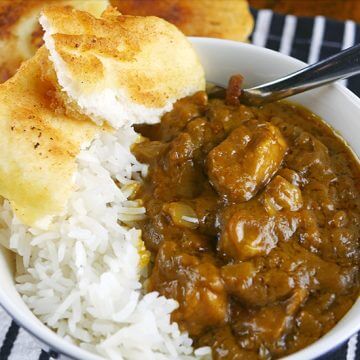 Prep time: 15 Minutes
Cook time: 45 Minutes
Total time: 1 Hour
Serves: 8
Ingredients
Curry
1 Tbsp oil
1 onion diced
¾ cup red curry paste (see below)
1 kg (2.2 lb) chicken thighs, cubed
400 ml (13.5 fl oz) coconut milk
¼ cup fish sauce
2 Tbsp sugar
½ cup peanut butter
Curry Paste
2 Tbsp dried red chilies, crushed
2 onions, roughly chopped
3 tsp garlic crushed
2 Tbsp oil
1 tsp lemon rind
2 tsp shrimp paste
1 Tbsp paprika
2 tsp turmeric, ground
1 tsp black pepper, ground
---
Instructions
Firstly, blend all the curry paste ingredients until they are a smooth paste.
In a frypan over medium heat, add 1 Tbsp oil.
Once the oil is hot, add the onion and cook until translucent.
Next, add the curry paste and cook until fragrant, roughly 2-5 minutes.
Add the chicken and cook until browned.
Add the coconut milk, fish sauce, sugar, and peanut butter.
Bring to a simmer and cook for 30 minutes.
Serve & Enjoy.
---
Recipe Tips
You can also do this curry in the slow cooker. Slow cooking is perfect if you want to get the curry cooking early in the day.
Homemade curry paste is excellent but it can be time-consuming and pricey if you have to buy all the ingredients. You can easily replace the curry paste with a store-bought one instead. Just make sure it is gluten-free.
If you are not a fan of peanut butter, then you can replace this with crushed peanuts. You may need to add a bit more than half a cup.
The longer you simmer this chicken peanut curry, the better the flavors will be. Just make sure you keep an eye on the curry as it can get incredibly thick and start to burn.
If you love the flavor of peanuts, then you can always add some more peanut butter. I would avoid going over one cup as it can start to overpower the curry paste.
Did you make this recipe?
We want to see! Tag
@cookingperfected
on Instagram or use the hashtag
#cookingperfected
so we can find you!
---