This grilled chicken and avocado sandwich is an absolute must-try. It is loaded with flavor and surprisingly easy to make.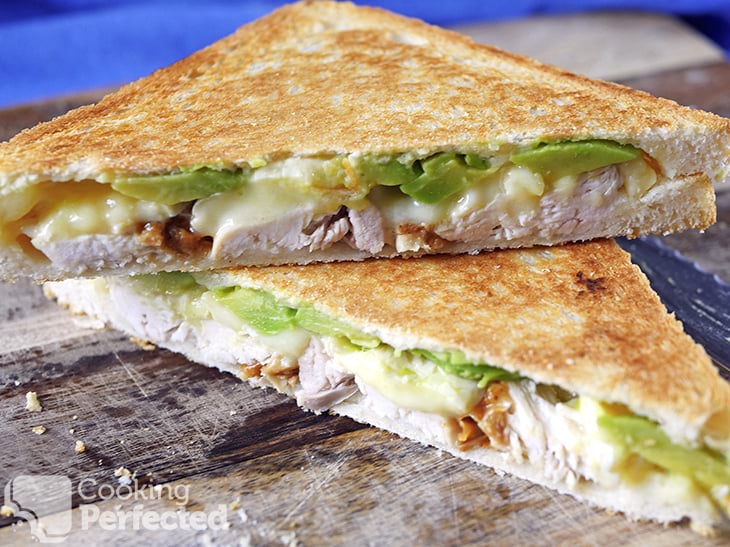 This delicious sandwich has a simple but delicious combination of flavors. I love to use shredded leftover roast BBQ chicken, freshly sliced avocado, and some high-quality brie cheese. It is a delightful sandwich to have for a quick and easy lunch.
By following the recipe, you will get a single toasted chicken avocado sandwich which will only be enough for one person. However, you can easily double or triple the recipe if you need to feed multiple people. Alternatively, if you are feeding big eaters, you may need to make two sandwiches per person.
If you want to feed multiple people, I highly recommend making some side dishes to go along with the sandwiches. My favorite side dish is a good amount of delicious potato fries. Alternatively, a simple salad will also suffice.
Changing the Toastie Ingredients
More ingredients can be added to the sandwich for a bit more flavor. For example, sliced red onion, baby spinach, crispy bacon, or even sliced bell pepper will add a ton of flavor to this dish. However, be careful adding more ingredients as it may make the sandwich hard to eat.
If you do not have any pre-cooked chicken, then you will need to cook some beforehand. Simply cook the chicken on the sandwich press or frypan until the internal temperature reaches 75°C (170°F). You can season the chicken with some extra herbs and spices for more flavor.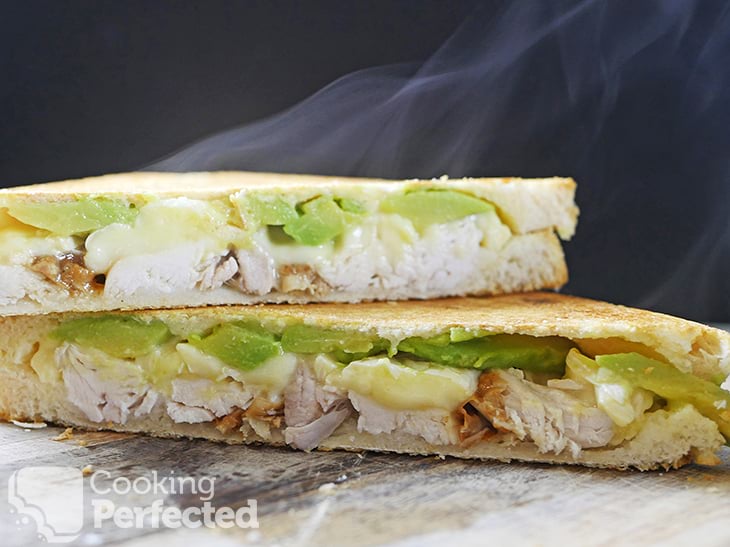 You can easily swap the cheese for a different cheese or use a variety of cheeses. Mozzarella, cheddar, Swiss, or even provolone cheese will work very nicely with chicken and avocado. I recommend sticking to roughly 100g (3.5 oz) of cheese per sandwich.
Some extra seasonings can be added to the sandwich for a little bit of a flavor boost. For example, a pinch of cumin, paprika, or even cayenne pepper might add that extra bit of flavor that you want. Personally, I like the recipe without any extra ingredients.
The recipe below will take you through the few steps to making this incredibly delicious chicken and avocado sandwich.
Grilled Chicken and Avocado Sandwich Recipe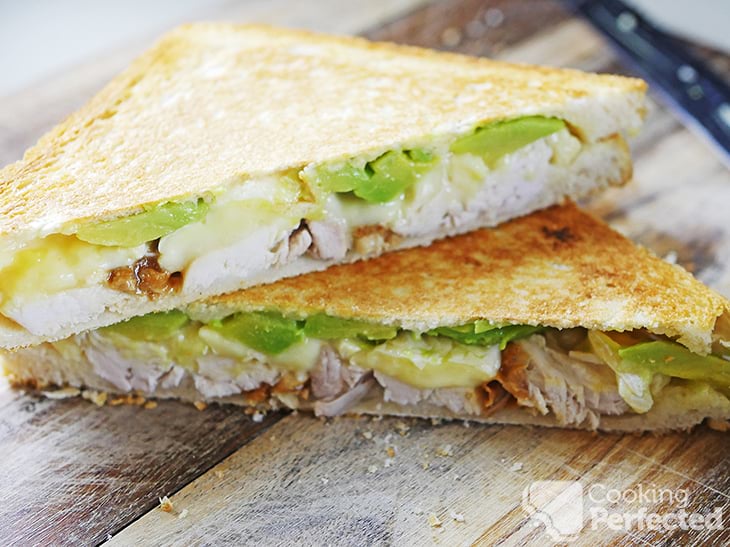 Ingredients
15 g (0.5 oz) unsalted butter
100 g (3.5 oz) shredded roasted chicken
1/2 avocado, thinly sliced
4 slices of brie cheese
2 slices of bread
1 pinch salt and pepper
Instructions
Butter one side of each slice of bread.
Place the shredded chicken, avocado, brie cheese on the unbuttered side of the bread. Season with a pinch of salt and pepper.
Assemble the sandwich, so the buttered sides of the bread are facing outwards.
Using a sandwich press
Once the sandwich press is hot, place the sandwich on the bottom. Close the sandwich press.
Cook for 3-5 minutes or until the bread is golden brown.
Serve & Enjoy.
Using a frying pan
Heat the frying pan over medium heat.
Place the sandwich in the frying pan and cook on one side for 2-3 minutes. Be careful not to burn the bread.
Next, flip the sandwich and cook again for 2-3 minutes.
Serve & Enjoy.
Recipe Tips
The butter is optional, but it does help get the bread deliciously crisp.
Be careful adding more ingredients as it may make the sandwich very hard to eat.
I love using some leftover slow-cooked shredded chicken in this toastie recipe.
You can also cook this sandwich in an air fryer. Roughly 180°C (350°F) for 10 minutes should be long enough.
A spoon or two of guacamole can be used instead of the avocado.
Nutrition Information
Serving Size: 291g (10.3 oz)
Servings Per Recipe: 1
Calories Per Serving: 570
Amount Per Serving
Saturated Fat: 14.3g
Trans Fat: 0g
Dietary Fiber: 8g
Sugars: 3g
Cholesterol: 116mg
Sodium: 504mg
Protein: 34g
The information above is an estimate generated by an online nutrition calculator.
More Delicious Sandwich Recipes
There are hundreds of different ingredient combinations that you can do inside a toasted sandwich. Below are a couple more ideas that I highly recommend giving a try.
Our grilled breakfast sandwich recipe features a delicious combination of bacon, hash brown, egg, cheese, spinach, mayonnaise, and BBQ sauce. It is certainly a loaded toastie, but it delivers a whole heap of flavor.
The air-fried grilled cheese is a very basic sandwich but is still very delicious. I highly recommend giving it a try if you want something easy but delicious.
I hope that you love this grilled chicken and avocado sandwich as much as I do. If you have some feedback, please do not hesitate to leave us a comment below.