This grilled smoked salmon sandwich is an absolutely delicious combination of flavors.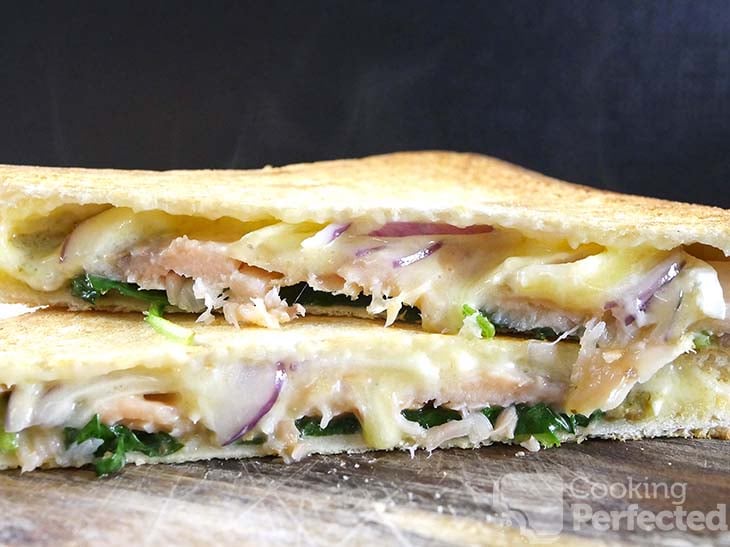 Our zesty smoked salmon sandwich features some delicious pesto, smoked salmon, brie cheese, red onion, and a touch of lemon zest. Together these ingredients create a delicious flavor combination that will please anyone who loves salmon.
The recipe is for a single sandwich, so if you are cooking for more people, you will need to make some adjustments. I recommend using a sandwich press as it is easier to cook multiple sandwiches at the same time.
Some side dishes are a great way to feed more people without having to make too many more sandwiches.  I love some delicious fries on the side of my sandwich, but things like onion rings or a salad will work just as well. Sweet potato fries are also worth making.
Tweaking the Smoked Salmon Filling
I use a green pesto in this recipe as I find it matches best with fish. However, if you prefer, a red pesto is a great alternative. If neither of these sauces fancies you, then a classic marinara sauce will work great.
For a little bit of bitterness and saltiness, you can try adding a couple of capers to the sandwich. Capers are a classic ingredient that matches very nicely with a lot of fish. However, whatever you do, do not add too many of them as they will easily overpower the rest of the ingredients.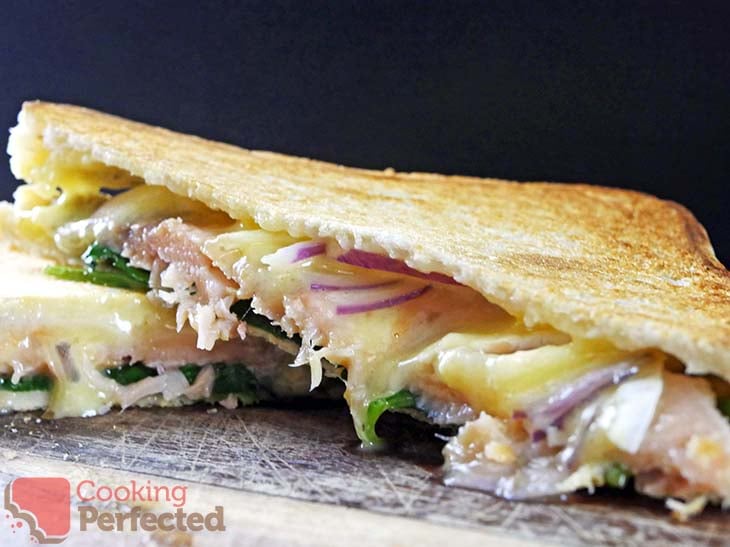 I use brie cheese in this recipe, but there are plenty of other cheeses that will work. Cheddar, cream cheese, or even a bit of parmesan will play nicely with the flavors of the smoked salmon. However, try not to go overboard, as cheese can sometimes drown out the rest of the flavors.
Lastly, you can add some more vegetables to the sandwich. For example, sliced zucchini is a great addition and will match nicely with the rest of the ingredients. Some sliced avocados or guacamole is another ingredient that is certainly worth a try if you want to experiment.
The recipe below takes you through exactly what you need to do to make a delicious smoked salmon sandwich.
Smoked Salmon Sandwich Recipe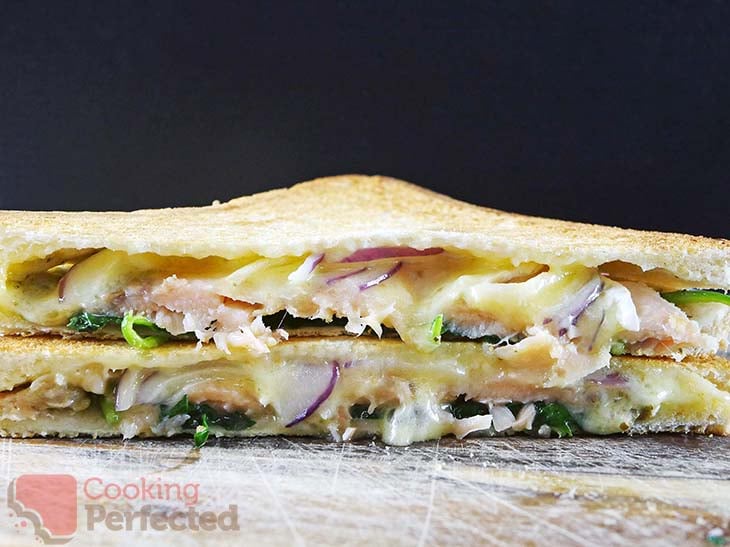 Ingredients
15 g (0.5 oz) unsalted butter
1 Tbsp green pesto
2 slices smoked salmon
4 slices of brie cheese
1/8 red onion, sliced
1 handful baby spinach
1/4 lemon zest
2 slices of bread
Instructions
Butter one side of each slice of bread.
Spread the green pesto onto an unbuttered side of one slice of bread.
On top of the pesto, add the smoked salmon, brie, red onion, baby spinach, and lastly, a bit of lemon zest. Finish off with the slice of bread
Using a sandwich press
Once the sandwich press is hot, place the sandwich on the bottom. Close the sandwich press.
Cook for 3-5 minutes or until the bread is golden brown.
Serve & Enjoy.
Using a frying pan
Heat the frying pan over medium heat.
Place the sandwich in the frying pan and cook on one side for 2-3 minutes. Be careful not to burn the bread.
Next, flip the sandwich and cook again for 2-3 minutes.
Serve & Enjoy.
Recipe Tips
I use smoked salmon, but salmon from out of the tin will work just as well.
You do not need to add the butter, but it does help the bread get nice and crispy.
An alternative way to cook this sandwich is using an air fryer. Roughly 180°C (350°F) for 10 minutes should be long enough.
Nutrition Information
Serving Size: 123g (4.3 oz)
Servings Per Recipe: 1
Calories Per Serving: 377
Saturated Fat: 11.4g
Trans Fat: 0g
Dietary Fiber: 1g
Sugars: 3g
Cholesterol: 53mg
Sodium: 561mg
Protein: 15g
The information above is an estimate generated by an online nutrition calculator.
More Sandwich Recipes
There are plenty more different sandwich fillings that I reckon you will love. Below are just a couple of my absolute favorites that I highly recommend checking out.
Our chicken and avocado sandwich recipe is certainly worth a try. It features delicious roasted chicken matched with brie cheese and avocado. I love making it whenever I am low on time and have some spare roast chicken lying around.
An egg and bacon sandwich is an absolute classic and is the perfect way to start the day. Our recipe uses some English muffins, bacon, egg, and some delicious accompanying ingredients. It is certainly worth a try if you want a great breakfast sandwich.
I hope that you love this grilled smoked salmon sandwich as much as I do. If you have some feedback, please do not hesitate to leave a comment below.