This easy beef and broccoli stir-fry is the perfect dish for when you feel like making something simple but incredibly tasty.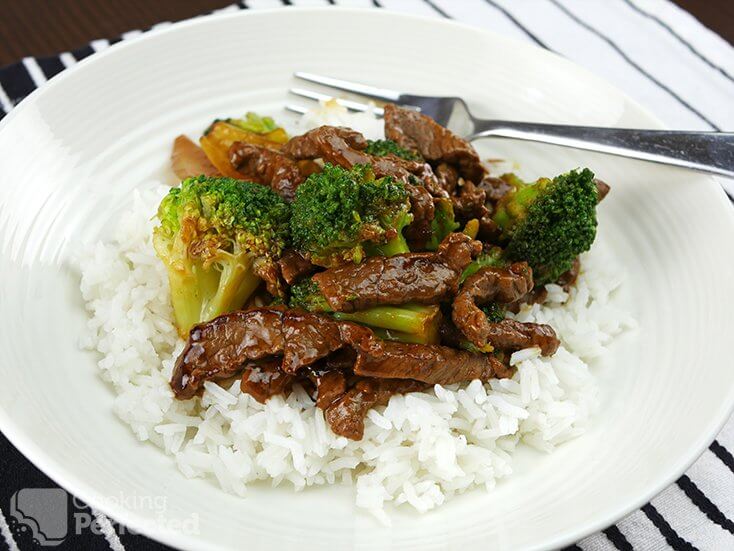 At the end of cooking, you will have a deliciously rich sauce, tender beef, and some perfectly tender broccoli. It is a fantastic combination that will have you going back for seconds.
You should be able to feed roughly four people without altering the recipe. I highly recommend that you make some extra side dishes such as rice or noodles. If you need to feed a crowd, you can easily double or triple the recipe.
The leftovers are worth keeping, so make sure you do not throw them out. Just store in the fridge until required, then heat in the microwave or over the stove. They should last for about two to three days in the refrigerator.
Personally, I cannot recommend freezing this dish as the broccoli is likely to overcook and become mushy when you reheat it.
What to Serve with Beef and Broccoli
You can eat this dish by itself, but I highly recommend cooking something to go with it. Below are a couple of my favorite options.
The easiest and tastiest option is to serve this dish on a bed of steamed rice. Other variations of rice, such as coconut rice will also work very nicely. I use a rice cooker as it makes the entire cooking process effortless.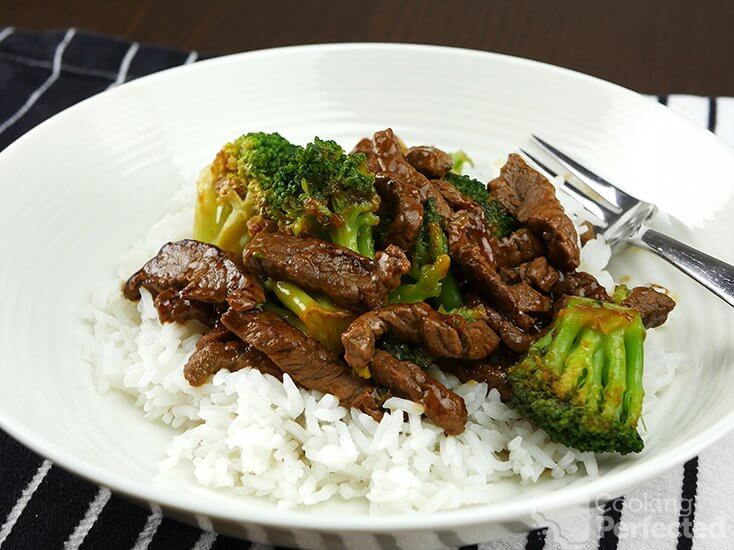 Noodles also go amazing with this dish, something like soba noodles will be perfect. However, other types of noodles, such as Hokkien noodles will work just as good.
Remember that a stir-fry is a quick dish to cook, so if you are cooking something like rice, then you might want to get that cooking first.
Tweaking the Recipe
If you do not mind the beef and broccoli sauce being a bit runny, then you can leave out the cornstarch and water mix. Some people prefer this as it makes the dish a lot lighter while still maintaining those great flavors.
You can swap the brown sugar for honey if you would prefer to use a different sugar. You can replace the beef stock with water, but you might need to increase the amount of salt to make up for the missing flavor.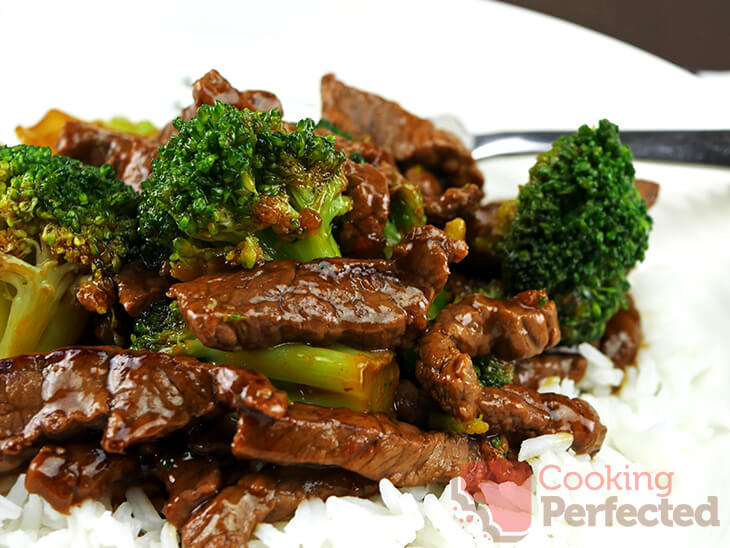 If you want to see how to make beef and broccoli, then be sure to check out the video below. It will take you through all the steps to making this super easy dinner dish.
Easy Beef and Broccoli Recipe
Ingredients
500 g (1.1 lb) beef steak, sliced into thin strips
2 Tbsp sesame oil
1 onion, quartered
2 tsp garlic, minced
1 tsp ginger, grated
⅓ cup low-sodium soy sauce
¼ cup brown sugar
½ cup beef stock
4 cups broccoli florets
To Thicken
1 Tbsp cornstarch
1 Tbsp water
Instructions
In a skillet pan over medium-high heat, quickly brown the meat. Once browned, put to the side.
In the same pan, add the sesame oil, onion, garlic, ginger, and cook for 2-3 minutes.
Add the soy sauce, brown sugar, beef stock, and stir until combined.
In a separate bowl, combine the cornstarch and water until it becomes like a paste.
Stir the cornstarch paste into the sauce until well combined.
Add the broccoli florets and return the beef to the pan. Cook until the broccoli is heated.
Serve & Enjoy.
Recipe Tips
You can use fresh or frozen broccoli; however, if you use frozen, make sure you defrost it first. Otherwise, it will add too much liquid and take forever to cook.
It is easy to overcook the broccoli. If it goes mushy and a dark color, then the broccoli has been overcooked.
You can use regular soy, but it may make the sauce a bit too salty. You can always try reducing the amount of normal soy to half and replacing the rest with beef stock or water.
This dish is super quick to get prepared and cooking. However, if you want to get it ready early, you can do this beef and broccoli dish in the slow cooker.
Nutrition Information
Serving Size: 250g (8.8 oz)
Servings Per Recipe: 4
Calories Per Serving: 385
Amount Per Serving
Saturated Fat: 4g
Trans Fat: 0g
Total Carbohydrate: 20.7g
Dietary Fiber: 2.5g
Sugars: 11.7g
Cholesterol: 112mg
Sodium: 1387mg
Protein: 42.3g
The information above is an estimate generated by an online nutrition calculator.
More Beef Recipes
There are a ton of dishes that you can cook with beef. Below are a couple of beef recipes that I highly recommend trying.
One of my personal favorites is delicious beef stroganoff. Much like this dish, it takes minutes to prepare so you can start eating as soon as possible.
Another beef dish that I reckon you will love is the easy beef goulash. It is a bit of a different twist to the traditional recipe but is still loaded with flavor. I highly recommend giving it a try.
I hope that you enjoy this easy beef and broccoli recipe and that it cooks to be delicious. If you have any feedback, then please do not hesitate to leave a comment below.