This paleo pastry is perfect for any meal that requires pastry. For example, pies, savory tarts, sweets, and so much more. If you're looking for a recipe that just works, then this is it.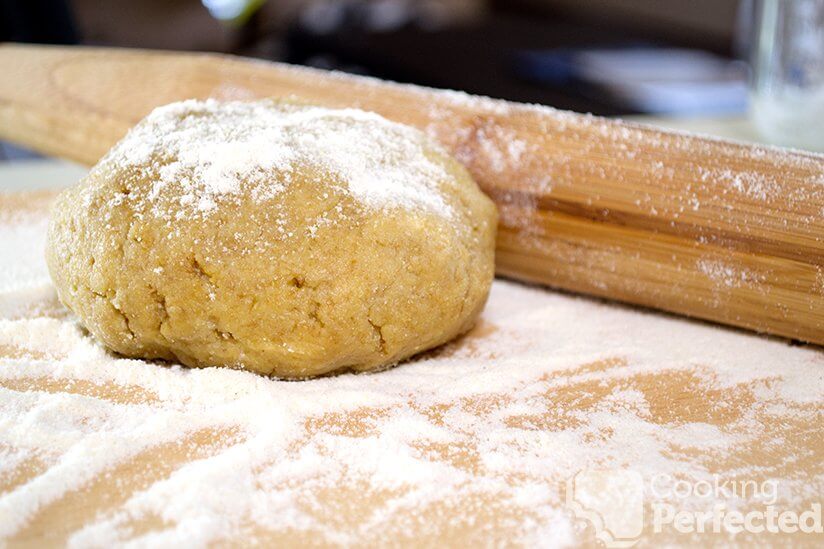 Getting paleo baked goods correct is extremely difficult as we can't use a lot of ingredients that make life easier. This recipe produces a pastry that will hold its shape and compliment other ingredients nicely.
This pastry is best for savory dishes, as you can probably tell from the ingredients. You can still use it in paleo desserts, but you will find it won't work as well as a sweet pastry.
I recommend using this pastry as soon as possible as it does set quite hard in the fridge. If you need to place it in the refrigerator, I recommend forming the pastry base first. This process will save you time, as you won't have to warm up the pastry so that it can be rolled again.
Uses for Paleo Pastry
There are many different meals that can use this pastry. Below are a couple of ideas on what you can do.
Be sure to check out my paleo-friendly chicken pot pie. The pie has a deliciously creamy cauliflower sauce that's loaded with chicken and vegetables. It involves a fair bit of work but is well worth the effort.
As I mentioned earlier, you can use this pastry as a base for sweets. For example, you could replace the paleo biscuit base in the lemon slice with this pastry. Both options are excellent.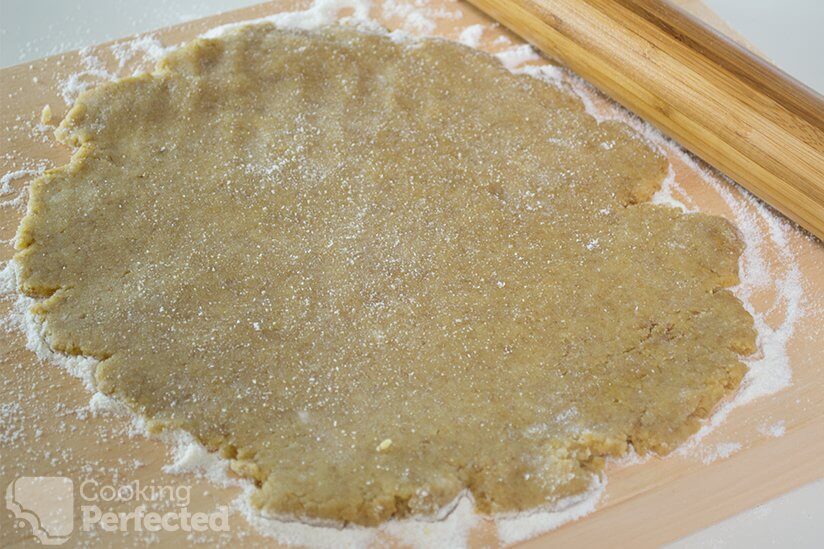 You can use this pastry as a pie crust. I like to simply use it as a top crust rather than a full pie crust. Lots of different savory fillings will work nicely with the pastry. You could even thicken the beef goulash and use that as a filling.
We love hearing what you have made with this pastry, so if you want to share your ideas, then be sure to leave a comment at the bottom of this page.
If you want to see how to make paleo pastry, then be sure to check out the video below. Alternatively, you can find the full recipe right below the video.
Paleo Pastry Recipe
Ingredients
2 & 1/2 cups almond flour
1/2 cup tapioca flour
1/2 tsp sea salt
4 Tbsp coconut oil
2 large eggs
Instructions
Place the almond flour, tapioca flour, and salt into a bowl.
Add the coconut oil and eggs and work until it forms into a ball.
Roll the pastry out on a board dusted with coconut flour. Alternatively, you can spread and press into a pie or tart dish.
Use as required.
Recipe Tips
As I mentioned above, if you don't need the pastry straight away, then wrap it up in some cling wrap so that it won't dry out. You will need to warm it up when you remove it from the refrigerator, as it will go quite hard.
If you prefer, you can remove the tapioca flour and reduce the coconut oil down to two tablespoons. However, you will end up with a much crumblier texture.
Assuming your dough is not coming together, then try adding a little bit of water to help bring it together. Try and avoid adding another egg as this may turn your pastry very eggy.
If you're using this pastry as a base in a pie or tart, then make sure you blind bake it before you put your filling in. To do this, cover the pastry with baking paper and add some pie weights on top. You should only need to blind bake for five to ten minutes at 200°C (390°F).
Nutrition Information
Serving Size: 65g (2.3 oz)
Servings Per Recipe: 8
Calories Per Serving: 308
Amount Per Serving
Saturated Fat: 7.4g
Trans Fat: 0g
Total Carbohydrate: 20.7g
Dietary Fiber: 3.9g
Sugars: 1.4g
Cholesterol: 47mg
Sodium: 136mg
Protein: 7.9g
The information above is an estimate generated by an online nutrition calculator.
Other Paleo-Friendly Recipes
There are lots of paleo-friendly recipes that you should give a try. Below are some suggestions on what you can do.
The creamy beef stroganoff is one of my favorite paleo-friendly recipes. It has delicious tender pieces of beef and a flavor-packed creamy sauce. I highly recommend giving it a try.
A pie that you have got to try is the paleo-friendly shepherd's pie. It has an incredible flavor-packed filling that's topped with mashed cauliflower. I love making it when I have a bit of spare time in the kitchen.
If you want to leave some feedback on the paleo pastry recipe, then just fill out the comment section below.