Back to Recipe
Print Recipe
Gluten-Free Chocolate Fudge Cake Recipe
---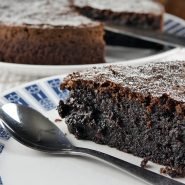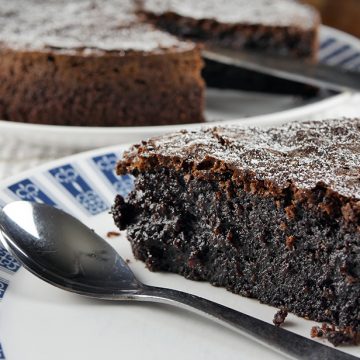 Prep time: 30 Minutes
Cook time: 1 Hour & 15 Minutes
Total time: 1 Hour & 45 Minutes
Serves: 6
Ingredients
1/3 cup cocoa powder
1/3 cup hot water
1 cup brown sugar
1 cup ground almonds
150 g (5.3 oz) dark chocolate, melted
150 g (5.3 oz) unsalted butter, melted
4 eggs, separated
---
Instructions
Preheat an oven to 160°C (320°F).
Grease and line 19cm (7.5 in) cake tin.
Combine the cocoa powder and hot water in a large bowl, stir until smooth.
Add the melted chocolate, butter, sugar, ground almonds, and stir until combined.
Stir in the egg yolks one by one.
In another bowl, beat egg whites until soft peaks form.
Fold the egg whites into the chocolate mixture in two batches.
Spread the cake mixture into the prepared cake tin.
Bake in the oven for 1 hour and 15 minutes or until the cake is firm.
Cool in the pan.
Serve & Enjoy.
---
Recipe Tips
The best way to tell if the gluten-free chocolate fudge cake is cooked is to see how much the cake has firmed up. It should hardly wobble, and a skewer should come out mostly clean.
Melting the butter and chocolate is best done in either a microwave or in a double boiler. The easiest method is to use the microwave.
Dark chocolate can be swapped out for milk chocolate. Using milk chocolate will make the cake slightly sweeter.
Ground almonds are also known as almond flour or almond meal. Any of these will work perfectly in this recipe.
The most important part of this recipe is folding the egg whites into the chocolate mix. Try to do this method as gently as possible as you don't want to knock too much air out of the egg whites.
Did you make this recipe?
We want to see! Tag
@cookingperfected
on Instagram or use the hashtag
#cookingperfected
so we can find you!
---