Back to Recipe
Print Recipe
Gluten-Free Orange Cake Recipe
---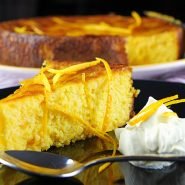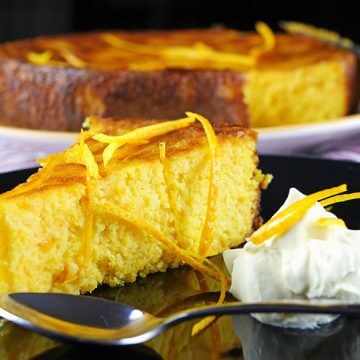 Prep time: 30 Minutes
Cook time: 1 Hour
Total time: 1 Hour & 30 Minutes
Serves: 6
Ingredients
2 large oranges
5 large eggs
1 & ½ cups caster sugar
2 cups almond meal
¼ tsp bicarb soda
---
Instructions
First, place the oranges in a pot and fill with water. Boil until very soft (1-2 hours). Try to make sure the oranges remain covered with water.
Drain the water and blitz the oranges until they're like a puree. Put to the side and allow the puree to cool.
Preheat an oven to 180°C (350°F), also line a 25cm (10 inches) springform pan with baking paper.
In a mixer, whip together the caster sugar and egg until it's thick and pale.
Combine the almond meal and bicarb soda, then fold into the egg mixture with the orange mix.
Pour into the prepared cake tin and place into the preheated oven.
Bake for 1 hour or until a skewer comes out clean.
Serve & Enjoy
---
Recipe Tips
Beating the eggs is incredibly important when it comes to making this recipe. If you don't beat them for long enough, then you may find the cake will come out a bit flat.
With this orange and almond cake, I just blitz the oranges whole, I usually don't end up with any seed problems. However, if you have the time, I recommend removing the core and any seeds so you can get a smoother finish.
Almond meal is also known as almond flour or ground almonds.
If you don't have time to wait for the oranges to boil, you can cook them in a microwave instead. Simply prick them with a skewer all over and wrap in some paper towel. Cook in the microwave until they are nice and tender. It should take between five to fifteen minutes.
Caster sugar is also known as baker's sugar or superfine sugar.
Did you make this recipe?
We want to see! Tag
@cookingperfected
on Instagram or use the hashtag
#cookingperfected
so we can find you!
---