Back to Recipe
Print Recipe
Paleo Blueberry Muffin Recipe
---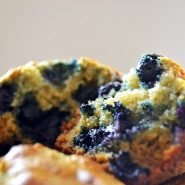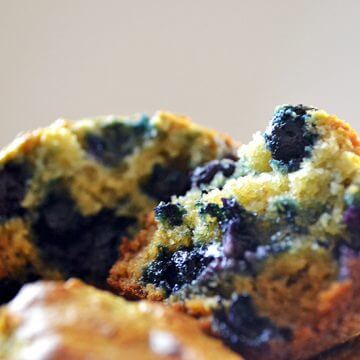 Prep time: 10 Minutes
Cook time: 25 Minutes
Total time: 35 Minutes
Makes: 8
Ingredients
¼ cup honey
1 tsp vanilla extract
2 Tbsp coconut oil, softened
1 Tbsp coconut milk
2 large eggs, room temperature
1 ½ cups almond flour
½ cup tapioca starch
½ tsp baking soda
½ tsp baking powder
¼ tsp sea salt
½ cup blueberries
---
Instructions
First, preheat an oven to 180°C (350°F).
In a bowl, beat the honey, vanilla, coconut oil, coconut milk, and the eggs together.
Add the dry ingredients and mix them in.
Fold in the blueberries.
Evenly divide the muffin batter into a greased muffin tin.
Bake for 20-25 minutes or until a skewer comes out clean.
Remove from the oven and let sit for 5 minutes before placing on a cooling rack.
Serve & Enjoy.
---
Recipe Tips
You can replace the coconut milk with almond milk or a similar paleo-friendly milk.
Make sure you beat the liquids, so they are well combined. If you do not, you may end up with a mixture that does not work very well.
If the muffins are starting to burn on the outside but are still uncooked in the middle, then try covering them with foil. This method will help stop them from browning any further while allowing the mix to continue to cook.
These paleo blueberry muffins or any kind of paleo baking can be very hit and miss. If you are having trouble getting this recipe to work, then be sure to check out the video above.
If you cannot get your hands on fresh blueberries, then frozen blueberries will work.
Vanilla essence contains alcohol, so if you are trying to steer clear of anything that is not 100% paleo-friendly, I recommend using a vanilla bean. Vanilla bean is slightly more expensive but is worth the money.
Did you make this recipe?
We want to see! Tag
@cookingperfected
on Instagram or use the hashtag
#cookingperfected
so we can find you!
---