Back to Recipe
Print Recipe
Deep-Fried Camembert Recipe
---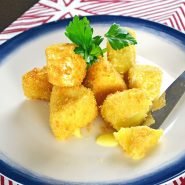 Prep time: 10 Minutes
Cook time: 10 Minutes
Total time: 20 Minutes
Serves: 2
Ingredients
115 g (4.1 oz) wheel of camembert
¼ cup plain flour
2 eggs
1 cup breadcrumbs
Enough oil to fill a deep fryer
---
Instructions
Cut the camembert into 1/8ths (If it is a wheel) or 2cm (0.8 in) chunks.
In a bowl, mix the plain flour with a pinch of salt and pepper. Toss the camembert through the flour.
In another bowl, beat the two eggs together.
Finally, in a different bowl, add the breadcrumbs.
Now, one by one, add camembert to the egg and then coat with the breadcrumbs. Place to the side.
In a deep fryer heat the oil to 180°C (350°F).
Place the camembert into the oil and allow to cook for 30-45 seconds or until golden brown.
Place on some paper to any drain excess oil.
Serve & Enjoy,
---
Recipe Tips
Deep-fried camembert goes amazing with some cranberry sauce. Also, it goes well in a salad, perfect if you're looking to have something a bit healthier with these gooey cheese bits.
It's essential not to use olive oils in a deep fryer as they impart a lot of their flavor to the food and they have a very low burning point.
Don't drop the camembert into the deep fryer as this will cause a splash, possibly burning yourself and also making your kitchen dirty. Simply place into the oil, and it should start cooking.
It is important to have the oil at the right temperature when using a deep fryer or even if you're shallow frying. If you put food in when the oil is not hot enough, your food will absorb the oil and become a soggy and a unenjoyable mess.
You can add chopped herbs such as chives to the breadcrumb mixture to help add a bit more flavor.
Did you make this recipe?
We want to see! Tag
@cookingperfected
on Instagram or use the hashtag
#cookingperfected
so we can find you!
---