Back to Recipe
Print Recipe
Ham Cheese Egg Bread Bowl Recipe
---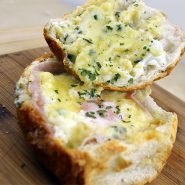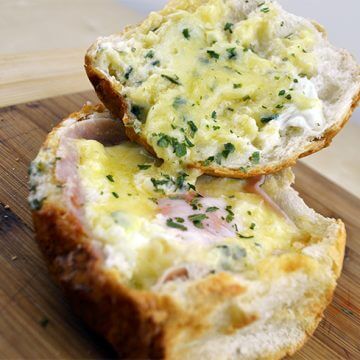 Prep time: 5 Minutes
Cook time: 15 Minutes
Total time: 20 Minutes
Serves: 1
Ingredients
1 round bread roll
2 slices of ham
50 g (1.8 oz) cheddar cheese slices
1 egg
Foil
Optional
---
Instructions
Preheat your oven to 180°C (350°F).
Cut off the top of the bread roll.
Using a spoon or your fingers, scoop out the center of the bread roll.
Using the ham, layer inside the scooped out hole in the bread roll. Try to make sure it covers the bread entirely. If you don't adequately cover the bread, it's not the end of the world, but the mix will start to seep into the bread.
Crack an egg into the hole and then top with some cheese. Sprinkle with your chosen herb.
Put the top back on the bread roll and then wrap in foil.
Bake for ~10-15 minutes or until cooked to your liking. The longer you cook, the harder the egg will become.
Remove from the oven and unwrap.
Serve and Enjoy.
---
Recipe Tips
You can also use salami or even smoked salmon, but make sure you get them thinly sliced, so you're able to layer correctly.
Keep in mind the oven you're using may cook faster than others. I am using a fan-forced, so it cooks a little bit quicker than other sorts of ovens.
The thickness of the outer wall of the bread will impact cooking times, the thicker, the longer it will take to cook the egg.
For a creamier and different filling, you could use a creamy scrambled egg mix instead of just an egg.
You can add more fillings, but keep in mind every ingredient may cause it to take longer to cook.
If you're running low on time, then you can cook this in the microwave instead. Just make sure you don't wrap it in foil. The downside to doing this is that it will come out a bit soft instead of crunchy.
Did you make this recipe?
We want to see! Tag
@cookingperfected
on Instagram or use the hashtag
#cookingperfected
so we can find you!
---