Back to Recipe
Print Recipe
Paleo Beef Stew Recipe
---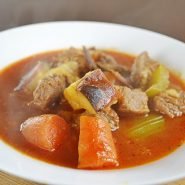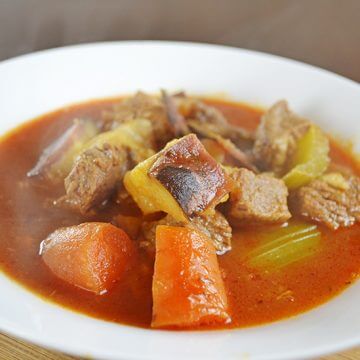 Prep time: 10 Minutes
Cook time: 2 Hours
Total time: 2 Hours & 10 Minutes
Serves: 4
Ingredients
500 g (1.1 lb) chuck beef, cubed
1 onion, roughly chopped
3 stalks of celery, roughly chopped
2 carrots, roughly chopped
2 sweet potatoes, roughly chopped
3 Tbsp tomato paste
½ tsp rosemary
½ tsp thyme
1 l (1.1 qt) beef stock
---
Instructions
In a large deep saucepan over medium heat, add the beef to the pan and cook until browned.
Add the onion, celery, carrots, and sweet potato. Cook for 3-5 minutes, making sure you stir constantly.
Add the tomato paste, stock, rosemary, and thyme.
Bring to the simmer then cover and cook for about 1 hour.
Remove the lid and cook for a further 45 minutes.
The beef should now be tender, and the broth should be slightly thickened.
Season with salt and pepper.
Serve & Enjoy.
---
Recipe Tips
I recommend using a low-cost cut of beef such as chuck since we will be cooking the stew for quite some time, which means the beef should become nice and tender.
If the paleo beef stew is a bit too thick, then just add a bit of water. If you're finding it to be too runny, then you will need to cook it for longer. Make sure you don't have a lid on it when you're trying to thicken it up.
You can adjust the ingredients in this recipe so that they're similar to something you prefer. For example, if you like eating lots of beef, feel free to add more. It won't affect the overall outcome of the stew too much. However, keep in mind the nutritional information will change if you add or remove ingredients.
The beef stock can be substituted with either chicken stock or vegetable stock. You can use water, but I highly recommend using something with a bit more flavor.
Did you make this recipe?
We want to see! Tag
@cookingperfected
on Instagram or use the hashtag
#cookingperfected
so we can find you!
---