Back to Recipe
Print Recipe
Paleo Salmon Cakes Recipe
---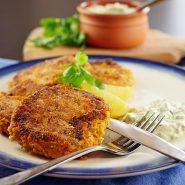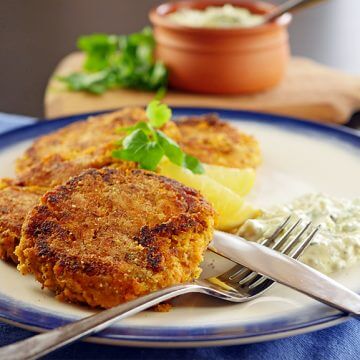 Prep time: 15 Minutes
Cook time: 20 Minutes
Total time: 35 Minutes
Serves: 2
Ingredients
210 g (7.4 oz) can pink salmon, drained and bones removed
300 g (10.6 oz) sweet potato, peeled and cut into 3cm (1 in) cubes
1 egg
1 tsp lemon zest
1/2 cup almond flour
½ tsp dill, chopped
¼ tsp sea salt
¼ tsp black pepper
4 tsp coconut oil
---
Instructions
In a pot over high heat, add the sweet potato and enough water to cover. Bring to the boil and cook until tender, roughly 8 minutes.
Drain the sweet potato and allow to cool slightly.
Transfer the sweet potato to a bowl and mash.
Add the pink salmon, egg, lemon zest, almond flour, dill, salt, and pepper. Mix until well combined.
Shape into patties, I use roughly a 1/3 cup measurement.
In a frying pan over medium heat, add the coconut oil.
Once heated, add the salmon cakes and cook for roughly 2-3 minutes on each side or until golden brown.
Serve & Enjoy.
---
Recipe Tips
You can prepare these patties. ahead of time and keep them in the fridge. Run through the recipe until step five and then store into the refrigerator. I find that the patties often hold together better when they're chilled for at least an hour.
While these salmon cakes shouldn't fall apart, it is still important not to fiddle with them as this may cause them to break apart and become an unappetizing mess.
The patty mix is already cooked except for the egg, so we're only frying to get a nice crispy outside and to heat them up.
If you don't mind the bones from tinned salmon, you can usually leave these in as they're typically edible. I prefer to remove them as I don't like the grittiness they add to the patties.
You can swap the coconut oil for something else. Any good paleo-friendly cooking oil will work fine in this recipe.
Almond flour is also known as almond meal or ground almonds.
Did you make this recipe?
We want to see! Tag
@cookingperfected
on Instagram or use the hashtag
#cookingperfected
so we can find you!
---