Back to Recipe
Print Recipe
Chocolate Self Saucing Pudding Recipe
---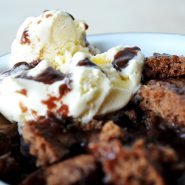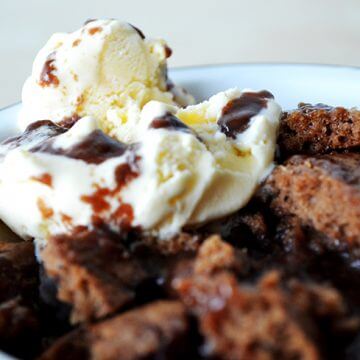 Prep time: 20 Minutes
Cook time: 20 Minutes
Total time: 40 Minutes
Serves: 4
Ingredients
30 g (1.1 oz) unsalted butter
60 g (2.1 oz) caster sugar
1 egg, beaten
75 g (2.6 oz) self-rising flour
2 tsp cocoa powder
60 ml (2 fl oz) milk
Sauce
45 g (1.6 oz) brown sugar
1 Tbsp cocoa powder
250 ml (8.5 fl oz) boiling water
---
Instructions
Preheat the oven to 190°C (375°F) and grease an 8x8 ovenproof dish.
Cream the butter and caster sugar until light and fluffy.
Add the beaten egg and mix well.
Gently stir in the flour and cocoa powder while also gradually adding the milk.
Once combined, pour into the ovenproof dish.
For the sauce, combine the brown sugar and cocoa powder. Sprinkle on top of the pudding mixture.
Gently pour the boiling water over the pudding mixture, try not to disturb the mixture too much.
Bake in the preheated oven for 45 minutes.
Serve and Enjoy.
---
Recipe Tips
When you're pouring the boiling water over the pudding, you can use the back of a spoon to pour onto it. This method will help stop the water from digging up your cake mix and causing bits of it to float.
If you find the sauce tasted a bit too much like brown sugar, simply add more cocoa powder next time. Alternatively, you can reduce the brown sugar, but this might affect the thickness of the sauce.
Another variation you can try for this chocolate self-saucing pudding is to add chocolate chips. If you add chocolate chips to the cake mix, you will get nice gooey bits of chocolate throughout the pudding when it is finally cooked. The sauce will help prevent any of the chocolate from burning.
Depending on where you live, caster sugar is also known as superfine sugar or baker's sugar. You can also use regular sugar if you don't have any caster sugar around.
Did you make this recipe?
We want to see! Tag
@cookingperfected
on Instagram or use the hashtag
#cookingperfected
so we can find you!
---