Back to Recipe
Print Recipe
Coconut Butter Recipe
---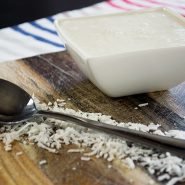 Prep time: 15 Minutes
Total time: 15 Minutes
Makes: ~200ml (7 fl oz)
Ingredients
4 cups unsweetened shredded coconut
---
Instructions
Place the coconut into a food processor.
Blitz the coconut on high speed. You may need to stop and push the coconut down off the sides of the blender if it is getting stuck.
Once you have blended the coconut long enough, it should start to become runny and creamy. The longer you blend it, the creamier it will become. I find blending for 15 minutes is usually the sweet spot for having a fantastic coconut butter.
Once you're happy with the mix, simply store in the fridge or cupboard until you need to use it.
---
Recipe Tips
If you're finding the mix isn't blending very well or is still very dry, then you can try adding some coconut oil. I recommend adding about two tablespoons of coconut oil and then blending some more. Add more if it still isn't turning buttery.
It is essential to make sure you buy a variety of coconut that isn't sweetened. A sweetened variety can cause problems in getting this to work and taste nice. You can find unsweetened shredded coconut at pretty much any good online retailer or a local supermarket.
Coconut flakes are a great alternative and will work just as well as the shredded coconut.
If you store this in the fridge, it will solidify. It will become very un-spreadable and impossible to dip anything into the butter. However, a quick solution would be to microwave the amount you need for just a few seconds. This heat should give you that lovely rich, creamy texture you had before you placed it in the fridge.
Did you make this recipe?
We want to see! Tag
@cookingperfected
on Instagram or use the hashtag
#cookingperfected
so we can find you!
---