Back to Recipe
Print Recipe
Deep Fried Mars Bar Recipe
---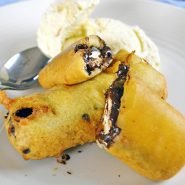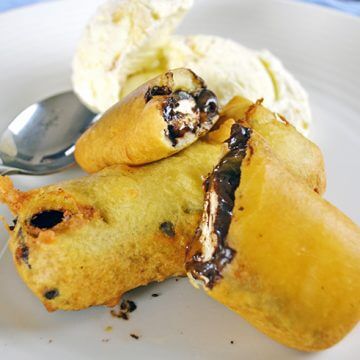 Prep time: 5 Minutes
Cook time: 5 Minutes
Total time: 10 Minutes
Serves: 4
Ingredients
4 Mars Bars
1 egg
1 Tbsp sugar
½ cup milk
1 cup flour
½ tsp salt
1 tsp baking powder
---
Instructions
Beat the egg and sugar together.
Add the dry ingredients and the milk.
Mix together until well combined.
Put to the side.
Heat a pot of oil or a deep fryer to 200 °C (350 °F).
Dip one Mars bar into the batter and place into the deep fryer.
Cook for about 30 seconds to a minute or until golden brown.
Remove from the oil and place on some paper towel.
Serve & Enjoy.
---
Recipe Tips
If the oil isn't hot enough your batter won't cook fast enough and the Mars bar will start leaking into the oil. If this is the case, then wait for the oil to heat up a little more before adding your next Mars bar.
I do not recommend shallow frying as the batter is likely just to fall off as you're trying to cook.
If the batter is too thick, then add a little bit more milk. Be careful though, as adding too much milk will make batter not stick correctly.
Fried Mars bars are amazing with some ice cream. It sounds super sickly, but the ice cream will turn this recipe from ok to absolutely amazing.
If you don't want the Mars bar to melt too much, then you can place it in the fridge beforehand. Don't remove it until you're just about ready. I, however, wouldn't recommend freezing it as it may have undesired consequences such as it exploding.
Did you make this recipe?
We want to see! Tag
@cookingperfected
on Instagram or use the hashtag
#cookingperfected
so we can find you!
---