Back to Recipe
Print Recipe
Gluten-Free Sticky Date Pudding Recipe
---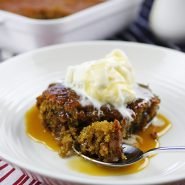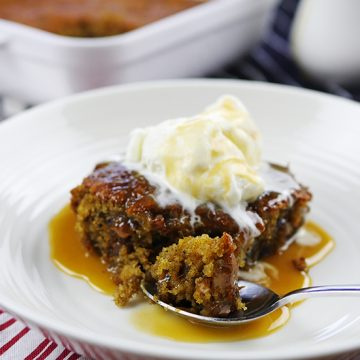 Prep time: 20 Minutes
Cook time: 40 Minutes
Total time: 1 Hour
Serves: 6
Ingredients
Pudding Mixture
1 & ½ cups pitted dates, chopped
1 tsp baking soda
1 & ½ cups boiling water
100 g (3.5 oz) unsalted butter, softened
1 tsp vanilla essence
1 cup brown sugar
2 eggs at room temperature
1 & ½ cups gluten-free self-rising flour
Caramel Sauce
1 cup brown sugar
1 cup heavy cream
60 g (2.1 oz) unsalted butter
---
Instructions
Preheat an oven to 180°C (350°F). Also, grease and line an 8×8 deep pan.
In a bowl, add the dates, baking soda, and the boiling water.
In another bowl, cream together the butter, sugar, and vanilla until it's a light creamy color.
Add the eggs one by one, beating well between each addition.
Add the flour and date mixture, gently mix until well combined.
Place into the prepared oven dish. Bake for 40-50 minutes or until a skewer comes out clean.
Meanwhile, add the brown sugar and butter to a pot over medium heat.
Once melted and well combined add the thickened cream. Simmer for 3-5 minutes while stirring.
Serve the pudding with the caramel sauce poured over the top!
---
Recipe Tips
If the butter and egg mix splits, then this most likely means that either the butter or the eggs are too cold. This split won't hugely affect the outcome of the pudding, but you may find that it doesn't come out as fluffy and even as you would like.
If all you have is gluten-free plain flour, then you can turn it into self-rising by simply adding three teaspoons of gluten-free baking powder. Most baking powders should be gluten-free, but it's best to double check just in case.
As with all baking, make sure the oven is at the required temperature before adding the cake.
If you prefer not to have chunks of dates, then you can also blend the date mix before adding it to the pudding mix. Personally, prefer the gooey bits of date throughout the pudding, so I don't blend the date mix.
You can make many individuals serves if you would prefer that instead of a large pudding. Just remember you may need to need to cook it for less time as the puddings are a lot smaller.
Did you make this recipe?
We want to see! Tag
@cookingperfected
on Instagram or use the hashtag
#cookingperfected
so we can find you!
---