These homemade sweet and sour meatballs are an absolute must-try. The sauce strikes the perfect balance of sweet and sour.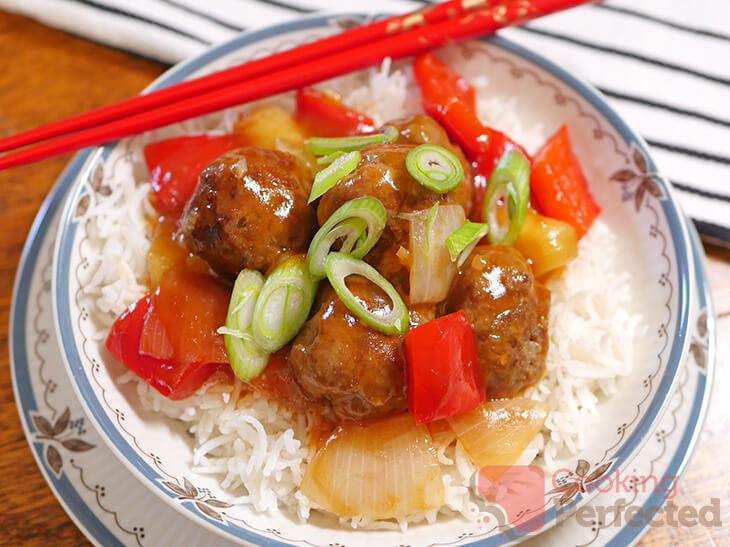 When you take a bite of this dish, you will be greeted with sweet and sour flavors. In amongst the delicious sauce, you will find hearty meatballs and chunky pieces of vegetables. All these components create a truly delightful dish that is worth coming back to.
This dish makes enough food to feed roughly four to six people. However, I do highly recommend that you make a side dish. If you need to feed even more people, you may want to double or triple the recipe.
You can also cook sweet n sour meatballs in the slow cooker if you want to start cooking early in the day. Both recipes result in a great tasting dish.
I love the leftovers of this dish and highly recommend that you keep them. They should be fine kept in the refrigerator for three days or for three months in the freezer. I do not recommend storing rice with the leftovers unless you plan on eating it as soon as possible.
What to Serve with Sweet and Sour Meatballs
There are plenty of side dishes that will work great with these meatballs. Below are just a couple of delicious ideas that will work great.
Steamed rice is my absolute favorite side dish to serve with these meatballs. For something a little different, you can try making some coconut rice. The coconut rice is deliciously creamy and very easy to make.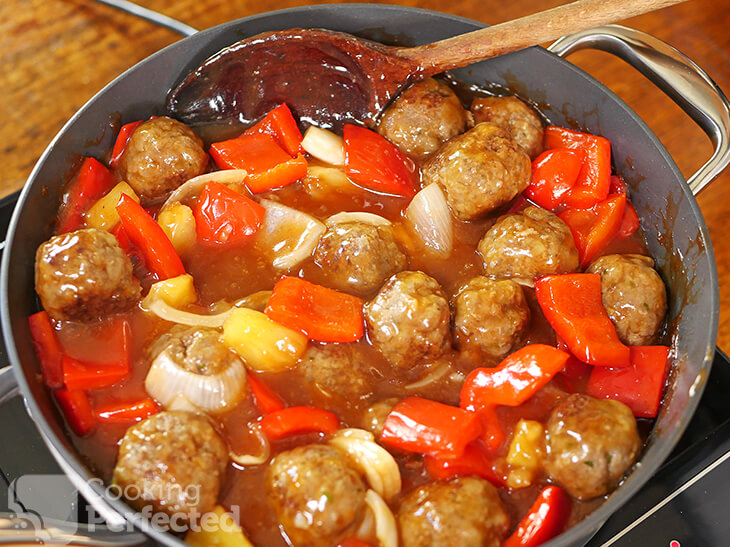 An easy way to serve this dish is to simply serve it on the top of some greens. Something like shredded lettuce, cabbage, or bok choy will work very nicely.
If you have a bit of spare time, you can make some fried rice to go alongside the meatballs. I prefer regular steamed rice, but fried rice is loaded with lots of extra ingredients and flavor. Feel free to pick whatever sounds most appealing to you.
Adjusting the Recipe
There are a few ways that you can alter this recipe so that it is more to your liking.
I love beef meatballs but feel free to swap the meat for something else. For example, ground pork is an excellent alternative to beef. A mixture of beef and pork is also worth a try.
More vegetables can be added to this recipe as I simply use just a few of the basics. Any Asian greens such as bok choy will make for an excellent addition. Other vegetables such as carrot, celery, or even baby corn will work very nicely with the sweet and sour sauce.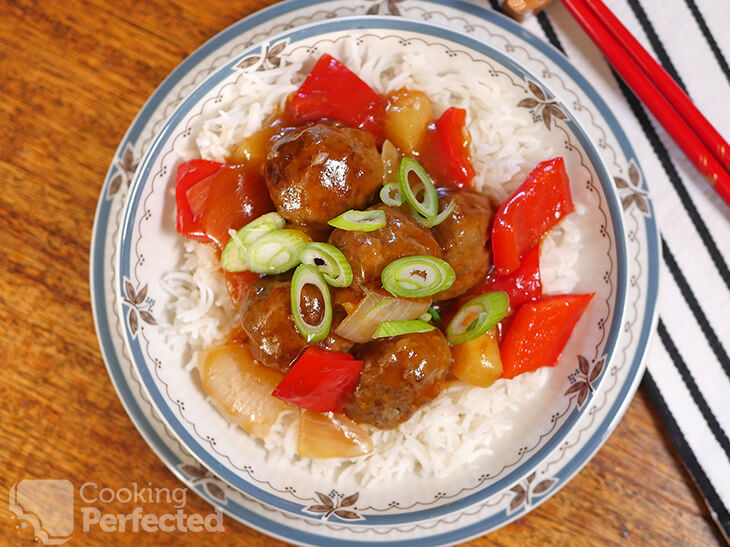 To make this recipe gluten-free, simply replace the breadcrumbs with either cornstarch or gluten-free breadcrumbs. Either option will work fine. Also, ensure that ketchup and soy sauce are also free from any gluten.
If you are running low on time, you can skip making the meatballs from scratch and simply use frozen meatballs instead. Either option will still produce an incredibly good tasting dish.
The video below will take you through all the steps of making sweet and sour meatballs. Alternatively, there is a full written recipe immediately beneath the video.
Sweet and Sour Meatballs Recipe
Ingredients
Meatballs
500 g (1.1 lb) ground beef
1 onion, minced
1 tsp garlic, crushed
1 tsp ginger, minced
1 egg
1 Tbsp parsley, chopped
50 g (1.8 oz) breadcrumbs
1 tsp salt
¼ tsp pepper
Sweet and Sour Sauce
2 Tbsp cornstarch
4 Tbsp ketchup
4 Tbsp sugar
6 Tbsp apple cider vinegar
1 Tbsp soy sauce
250 ml (8.5 fl oz) pineapple juice
2 large bell peppers, quartered
440 g (15.5 oz) can pineapple pieces, unsweetened juice
1 onion, quartered
Instructions
In a bowl, combine the ground beef, onion, garlic, ginger, egg, parsley, breadcrumbs, salt, and pepper. Roll into balls. One tablespoon per meatball should be enough.
In a frypan over medium heat, add two tablespoons of oil.
Brown the meatballs and then put to the side.
In a deep saucepan, combine the ketchup with the cornstarch. Gradually add the sugar, apple cider vinegar, soy sauce, and pineapple juice.
Over medium heat, continually stir the sauce until it has thickened.
Add the meatballs, bell pepper, pineapple pieces, and onion. Cook for ten to fifteen minutes.
Serve & Enjoy.
Recipe Tips
The cornstarch is an absolute must for a thick sauce. Alternatives such as arrowroot can be used if you do not have any cornstarch.
If you are using an oven-proof dish, you can keep the meatballs and sauce in the oven for up to an hour. Ideal if you do not need to eat straight away or you want to prepare something else in the meantime.
The pineapple juice from the tinned pineapple pieces should be enough to get to 250ml (8.5 fl oz). Otherwise, simply top the pineapple juice with water until you get the required amount.
Nutrition Information
Serving Size: 350g (12.3 oz)
Servings Per Recipe: 6
Calories Per Serving: 545
Amount Per Serving
Saturated Fat: 10.1g
Trans Fat: 1.5g
Dietary Fiber: 3g
Sugars: 49g
Cholesterol: 92mg
Sodium: 773mg
Protein: 16g
The information above is an estimate generated by an online nutrition calculator.
Other Ground Beef Recipes
There are loads of other recipes that make use of ground beef that are worth checking out. Below is a couple of ideas that you might be interested in trying.
The hearty paleo-friendly spicy beef meatballs are certainly worth a try. The recipe features a delicious homemade tomato sauce that has a slight hint of spice. The meatballs cook in the sauce and are an absolute delight.
One of my favorite comfort foods is a Tater Tot casserole. The casserole has a delicious ground beef gravy that is topped with Tater Tots and a generous amount of cheese. It truly is a delicious combination.
I love these sweet and sour meatballs and certainly hope that you will too. If you have some feedback, then please do not hesitate to leave a comment below.